Discover more from Twelve Thirty Six
Canada's News Burrito 🌯 media, culture, politics (via Toronto)
You can't sleep in a subway that's screeching
And, two congressmen debate Nickelback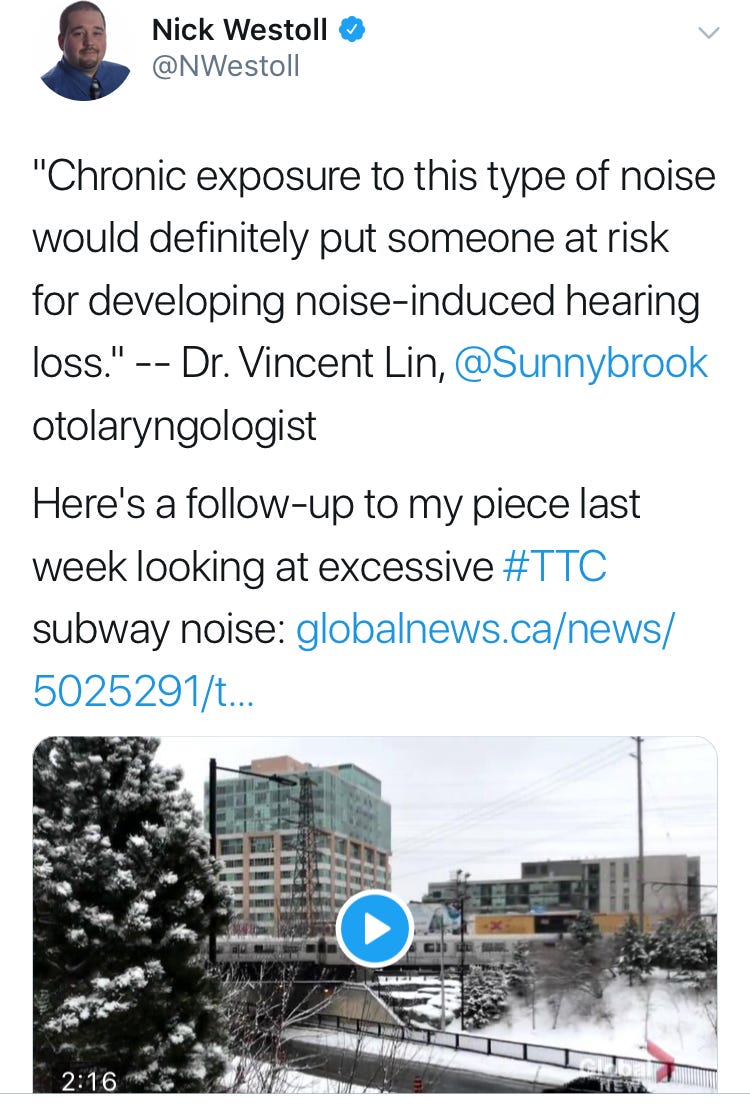 The case of screeches from subway trains passing through Islington has been adopted by Global News, after reports dating back to last summer from a neighbour who keeps on tweeting videos from her condo. Tamar Fernandes isn't satisfied with the response to her complaints, but the TTC says they plan to give these squeaky wheels some grease.
---
Sidewalk may walk without LRT
Dan Doctoroff of Sidewalk Labs says their plan requires light rail. And, if there's no interest in building it, Alphabet could abandon its plans with Waterfront Toronto. The project's opponents, like the Canadian Civil Liberties Association, would only rejoice in response. 
---
The Sherman family wants the murder mansion flattened. The vacant house where Honey and Barry Sherman died—which was up for sale at the time—is the focus of an application to North York community council, requesting its demolition. With no arrests in the case, despite a $10-million reward, Barry's cousin Kerry Winter stuck to a murder-suicide theory before logging off from a long thread. 
---
What a $1,100 crawlspace looks like right now
A presumably genuine Kijiji post for a "cute little bachelor" at Carlton and Sherbourne appears to be a bleak old studio that comes with a ladder—and not very much of a view:
---
How to keep Americans awake while explaining #LavScam. A 3,000-word piece at Vox probably failed in the attempt—but Vox's podcast, Today, Explained, gave the scandal a more digestible treatment. (As did the daily Slate show, What Next.) The most relatable conclusion might be offering other countries caution against governing via hashtags. 
---
A scandal made for subtweets
The Public Prosecution Service of Canada opened a Twitter account just in time to remind the nation that prosecutors must remain free of political influence. Meanwhile, outgoing Whitby MP Celina Caesar-Chavannes accused Justin Trudeau of breaking past promises. For one former Conservative government linchpin, it's all about the irony of the original Liberal spin:
---
"That's probably about the percent of people who think Nickelback is their favourite band in this country. It's pretty low." Mark Pocan, a Democratic representative from Wisconsin, compared the four-in-77,000 support for "prison gerrymandering" to the popularity of Nickelback. Republican Rodney Davis then defended the band on the House floor.
---
Finally, a designated survival skill
Kiefer Sutherland is on TMZ, answering a paparazzi question about whether his presidential show will collaborate with Barack Obama now that they've both joined Netflix. Production of Designated Survivor's third season recently wrapped in Toronto. For now, you can also find Sutherland on YouTube, demonstrating how to cook a fucking steak: