Discover more from Twelve Thirty Six
Canada's News Burrito 🌯 media, culture, politics (via Toronto)
You can cancel Facebook before it cancels you
Mark Zuckerberg's invention has become exhausting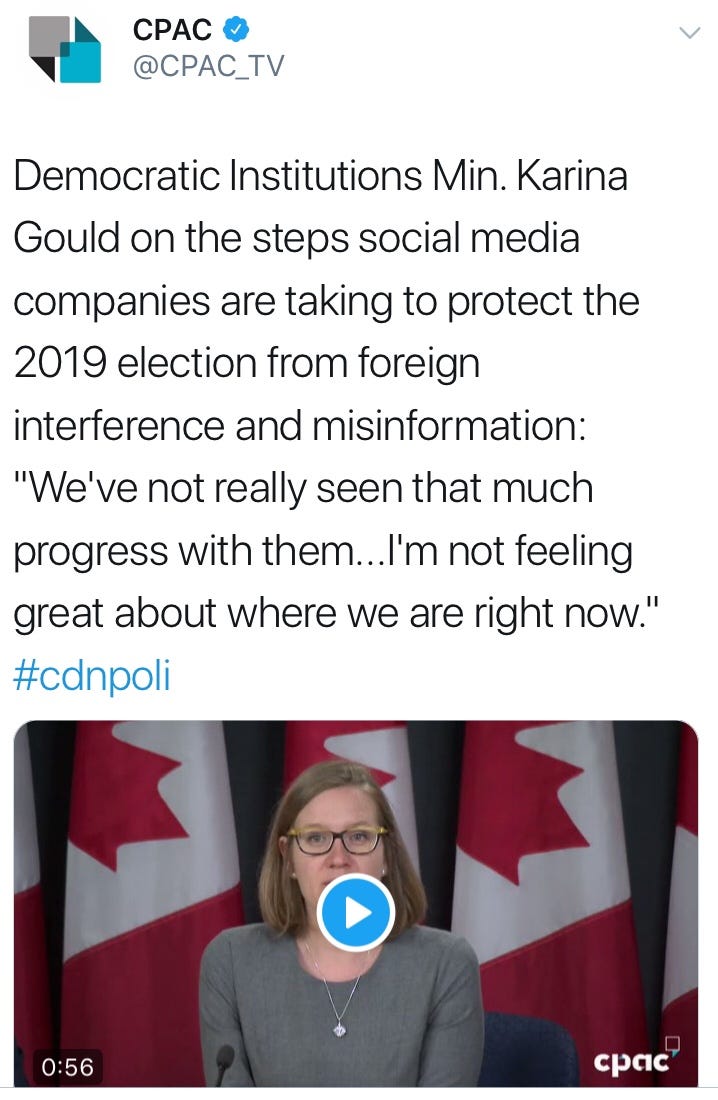 Facebook's former mentor Roger McNamee thinks Canada should stop allowing political campaigns on social media. After all, we've seen that little good tends to come from that. The federal Liberals are implying that some action is about to happen. 
---
Faith remains the face of friction
Days after saying one of Faith Goldy's white nationalist videos didn't violate its new policy, Facebook (and Instagram) banned her in a sweep of accounts linked to "organized hate." Twitter and YouTube are continuing to facilitate the Faithbook. 
---
Loblaw's federal funding fridge folly unites left and right. Liberals giving $12 million to the grocer so it can convert its refrigeration system in 370 stores was condemned by the CPC and NDP, in light of Loblaw profits and price fixing. (North99, the Liberal-loving outlet that has made Galen Weston Jr. a target on Facebook, must be confused by it all.)
---
Pumping stickers into your tank
Former label and tag company mogul Doug Ford surely loves the idea of gas stations being mandated by Queen's Park to put this phallic graphic in your face during every single fill-up:
---
Elana Fric's neurosurgeon husband admits that he killed her. Mohammed Shamji pleaded guilty to second-degree murder in the December 2016 death of his physician wife. Their relationship was the subject of a Toronto Life story whose writer, Michael Lista, responded to a new wave of Twitter criticism.
---
Hemingway couldn't write a better ad
The Toronto Star loves reminding readers that Ernest Hemingway worked there, thus the paper plugs a $730,000 listing for Unit 19 of 1599 Bathurst, where Hemingway briefly lived as a young reporter. The condo last sold for $511,000 in September 2017, after another building resident unearthed the literary link.
---
Jane Philpott says Justin Trudeau violated the law. Expelling two MPs from the Liberal caucus without a vote went against the Reform Act, claims Philpott, in the wake of anti-Trudeau graffiti outside the Vancouver office of Jody Wilson-Raybould. Meanwhile, the saga surrounding the two was scanned by David Frum at The Atlantic.
---
Finally, control-alt-delete Rasputin 
Amos Barshad is a Brooklyn writer with a new book, No One Man Should Have All That Power. In the course of his promotional efforts, the Globe and Mail ran Barshad's piece, "Is Gerald Butts a modern-day Rasputin?" Globe editor-in-chief David Walmsley evidently apologized to Butts and kept it out of the print edition. But it also inspired another meme: