Discover more from Twelve Thirty Six
Canada's News Burrito 🌯 media, culture, politics (via Toronto)
When the deplatforming gets deplatformed
The term isn't in a dictionary yet
The People's Party leader has been invited to the big debates—and he partly has the Etobicoke electoral chances of Renata Ford to thank for meeting the eligibility criteria. Maxime Bernier's break coincided with attention to Ezra Levant's op-ed in the Globe and Mail calling for press freedom to extend to Rebel News, the most PPC-friendly outlet around.
---
The front page for our age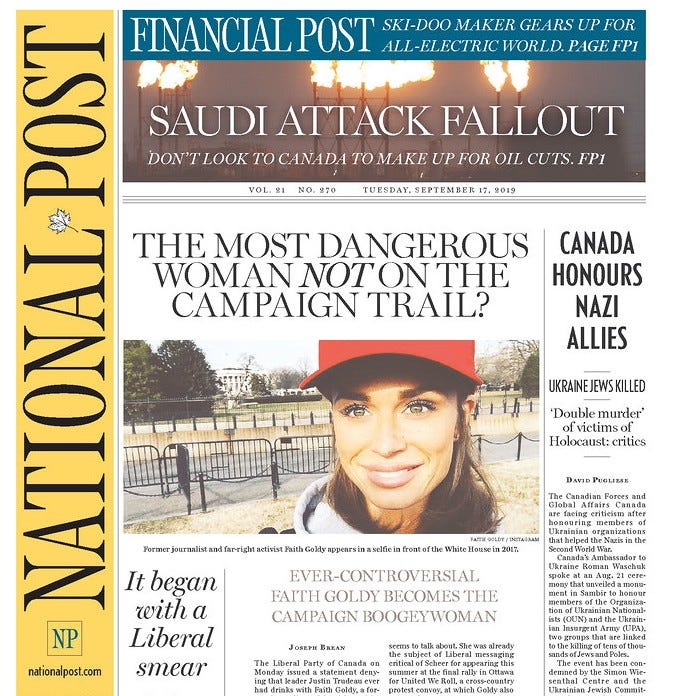 The Liberals' raising of Conservative candidate Justina McCaffrey's past friendship with Faith Goldy led to retaliation from Andrew Scheer—who brought up Goldy's insinuation that Justin Trudeau once invited her out for drinks.
---
"Majority of Voters Say Cost of Living is Most Important Issue in Parliamentary Elections." Politico promoted its Canadian coverage with a poll from Abacus Data, even if this stuff can't compete with photos of Justin Trudeau with Bianca Andreescu, or the PM joking that CBC coverage can be bought with some poutine.
---
Weed dealing whacked by reality
The new Ontario pot shop licences have been delayed until a judicial review of those disqualified after lottery wins. This, combined with the fact that the provincial cannabis operation lost $42 million in its first year, is grist for the unions and opponents of government weed-sellers alike:
---
Haviah Mighty won the Polaris Music Prize. The female rapper from Toronto is sure to be much better known after scoring the award for her album 13th Floor. Mighty, which is her real name, is the first full-on hip-hop artist to win Polaris. (Shad made the shortlist four times.)
---
The journey from
SNL
to SOL
Shane Gillis, the Saturday Night Live cast member quickly ditched over past racist and homophobic slurs, found support from SNL veterans including Norm Macdonald, whose firing in 1998 ended the noteworthy streak of Canadians in the cast, to our detriment:
---
Lilly Singh's show feels small as advertised. A Little Late premiered on NBC, with a low-key aura that's suited for 1:35 a.m. viewing. But it airs one hour earlier via Global Television—making Singh seem like an extremely belated replacement for its Mike Bullard disaster.
---
Finally, new kids in the old hall
Tallboyz is premiering as a Tuesday night series on CBC Television, 30 years (and three days) after Kids in the Hall, whose Bruce McCulloch is overseeing this sketch troupe. The four guys who banded as Tallboyz II Men start by explaining just how tall they are: