Discover more from Twelve Thirty Six
Canada's News Burrito 🌯 media, culture, politics (via Toronto)
What would 12:36 say before Victoria Day
Charlie saved, Liberals fade, Carly Rae
Toronto police are still seeking three suspects in the case of "Charlie," a 10-year-old Siberian Husky mix allegedly stolen on the East Danforth, but then found safe in the Beaches.
---
The price of saving some hides
"Hats for Hides" is a program that encourages hunters to trade in the pelts they've harvested. Meanwhile, a Pollara poll claims a 10-point decline in Ontario PC support in one year.
---
The Ontario Liberal caucus could soon fit in a Mini. Ottawa MPP Nathalie Des Rosiers was appointed principal of Massey College, and Marie-France Lalonde hopes to run federally—which may leave just five Liberal MPPs.
---
Back in the day with I.M. Pei
Obituaries for the architect, who died at age 102, highlight his designs for Montreal's Place Ville Marie and Commerce Court in Toronto—a city where he once had another idea: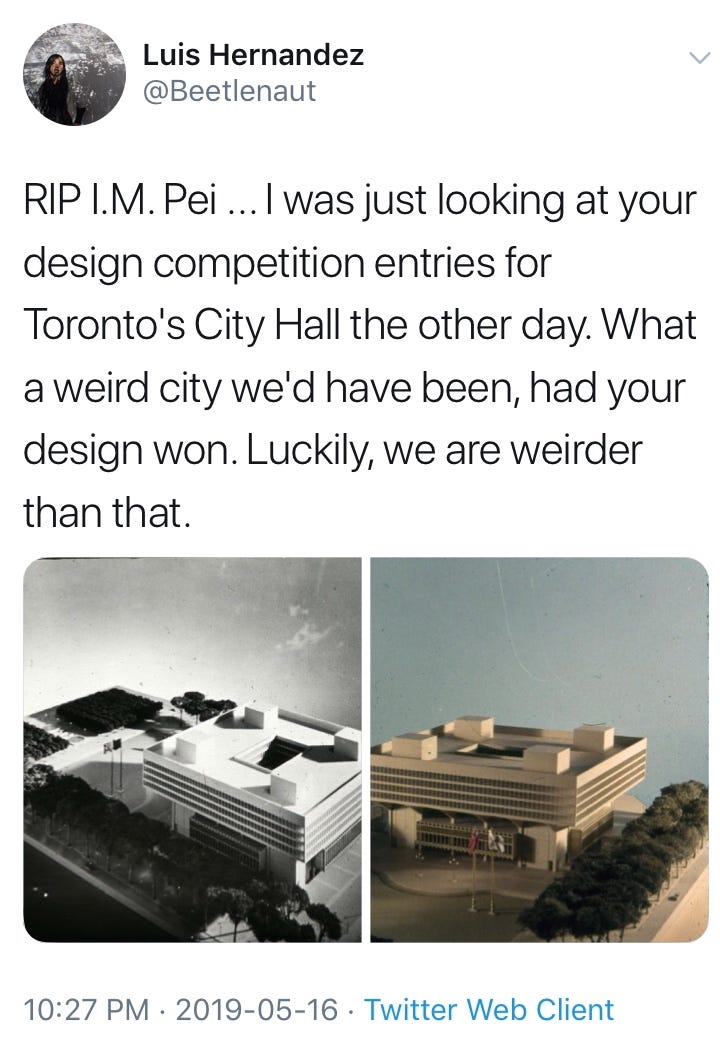 ---
Deane Cameron dead at 65. The former president of EMI Music Canada, he was subsequently the CEO of Roy Thomson Hall and Massey Hall, a job that included overseeing the latter venue's restoration. Cameron started in music as the drummer behind Tom Cochrane, who became one of many Canadian acts designed by EMI. 
---
Finally, the most hitless of pop stars
Carly Rae Jepsen still lacks for stats to match her online portrayal as a mass-appealing singer: "Party for One," the first single from Dedicated, peaked at number 100 on Billboard's Canadian Hot 100. The rest of this album is out, with one song drawn from Robert Altman's movie musical, Popeye. If nothing else, that's another thing to write about: