Discover more from Twelve Thirty Six
Canada's News Burrito 🌯 media, culture, politics (via Toronto)
Weather Network gets prodded by cattlemen
The forecast called for a backlash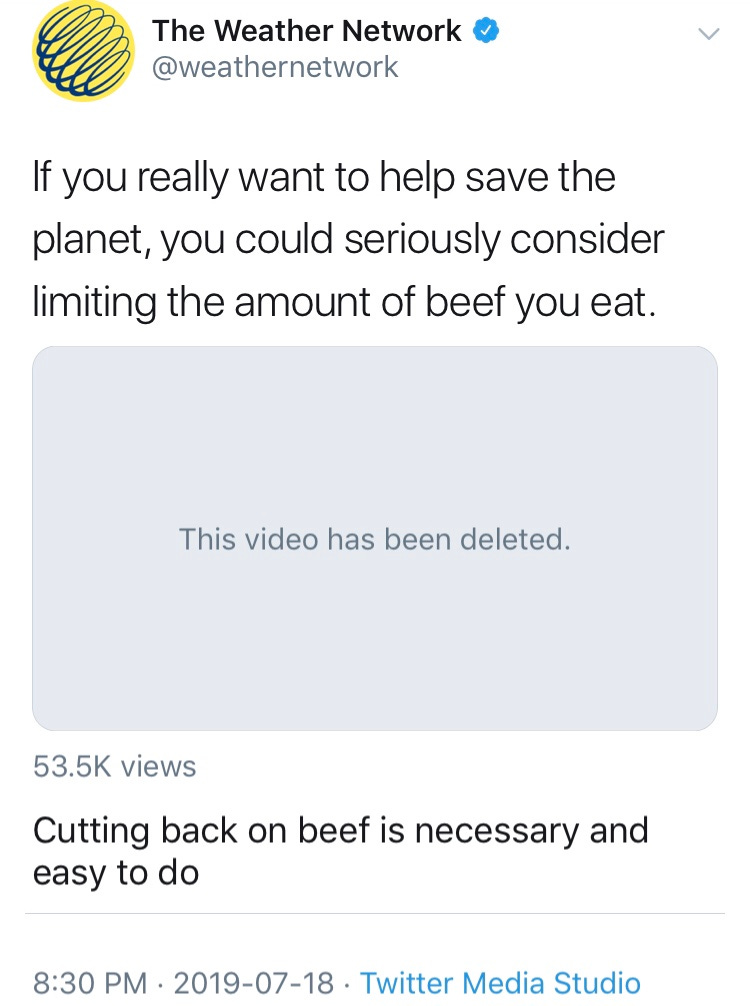 Cattlemen have a beef with the Weather Network after the channel posted a video encouraging decreased meat consumption. The spot was eventually re-edited to correct exaggerated population growth estimates.
---
Left hook at Gerald Butts redux
Gerald Butts joining the Liberal campaign team five months after he resigned from the PMO was something for opponents to snark about.
---
CAFE's cement blocks lead to charges for street dealers. The acronym for Cannabis and Fine Edibles is now a household name after police and city bylaw officers used huge concrete bricks to block off the illegal dispensary chain's store entrances. Subsequent sidewalk selling has cops clamping down further, and issuing tickets.
---
A tale of waxing and waning
A B.C. Human Rights Tribunal hearing about a transgender woman who was denied Brazilian waxes because she has male genitalia has become the type of story that generates coverage about the lack of coverage. But the CBC eventually arrived with an angle:
---
"Even before first bailout dollar arrives, newspaper industry holds out its hand for more." Andrew Coyne columnized about the expert panel recommendations for allocating the federal government's $600-million news-media tax credit program. The suggestions also seem to leave a lot of loopholes.
---
Finally, a double-stick diplomat
Justin Bieber appreciates POTUS advocating for the freedom of rapper A$AP Rocky, but used the occasion to also ask Donald Trump to "let those kids out of cages." Time will tell if this request is as successful as Bieber demanding the return of double-stick Popsicles, a request which the company has now received enough retweets to abide by: