Discover more from Twelve Thirty Six
Canada's News Burrito 🌯 media, culture, politics (via Toronto)
Total eclipse of the opposition in Ottawa
Means more memes from the CPC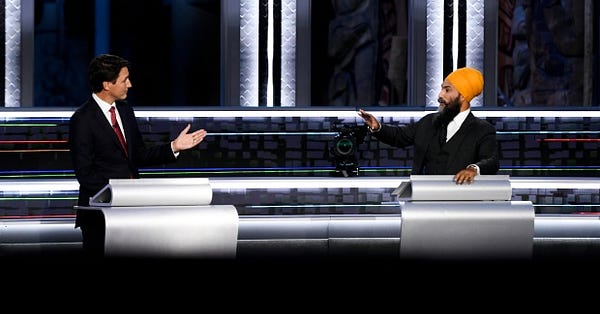 ctvnews.ca
Tom Mulcair: Trudeau's deal with NDP is quite the coup
Justin Trudeau has just pulled off the type of move that has kept his Liberals in power for most of confederation. After voters handed Trudeau his second minority, Jagmeet Singh's NDP has offered to effectively give him a majority up until the next scheduled election, in 2025. Quite a coup, writes f…
The previous NDP leader was among the pundits granted good fodder by the deal set to fuel the next three years of Conservative complaints about the Liberals. There's also lots of educated conclusions that the New Democrats won't get any more power out of it. But maybe it just means Justin Trudeau can safely return to his sunny ways of governing.
---
Who is this masked premier?
Doug Ford kept his vow to stay masked at work for a few days past the mandate. But only the NDP MPPs unanimously kept theirs on at Queen's Park, whereas the Ontario PCs were majority mask-free. In other news, former Toronto police chief Mark Saunders will run for Ford Nation in the riding of Don Valley West.
---
Toronto's blizzard in mid-January cost more than $17 million to clear. The city's general manager of transportation services issued a report that concluded a lack of readiness for extreme weather events. Meanwhile, a recent tally of how much the Freedom Convoy events cost the city of Ottawa was $36.6 million.
---
The airing of
Inconvenient Indian
A documentary caught in a controversy after the Indigenous identity of Michelle Latimer was questioned in an investigation from CBC News will soon surface via APTN. After the plug was pulled on a second season of her series, Trickster, Latimer explained her origins, and sued the CBC in a lawsuit that was dropped:
---
Voices of Flow 93.5 are now at York University. DJ Ricochet, who hosted the Made in Toronto Takeover on the hip-hop radio station that ceased to exist in February, is rebooting at Vibe 105.5. York's campus frequency is now run by VX3 Exchange, with its programming now overseen by another Flow veteran, Paul "Mastermind" Parhar.
---
Finally, every day is like Monday
GarfieldEats opened in downtown Toronto three years ago with the authorization of cartoonist Jim Davis, after its cat-pasta menu debuted in Dubai. This was a ghost kitchen venture that ended with apparent trouble paying rent, as founder Nathen Mazri pivoted to YouTube. Perhaps the entire surreal episode was never meant to make much sense at all: