The weekend when nobody went outside
Except for those who wanted to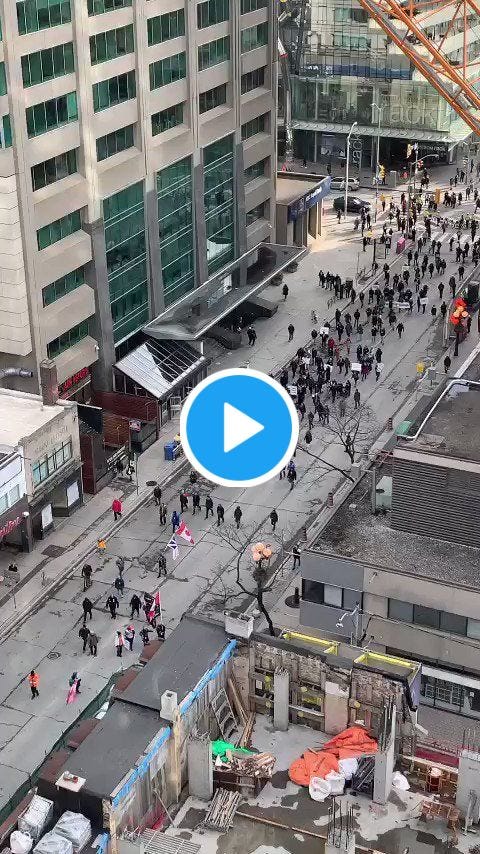 The weekly Toronto anti-lockdown protest resulted in arrests of the two organizers this time around. A total of 18 charges were laid related to a Saturday march that reached the mayor's condo. Ontario's new stay-at-home order also brought on a big-box-retailer inspection blitz, which found the rules being violated in 36 out of the 110 visited stores.
---
Back to old stock politics talk
"I don't believe leadership is bestowed by birthright," wrote Erin O'Toole in a statement that points at Justin Trudeau's party for perpetuating the idea that O'Toole is courting the far right by backing ideas that stoked the attack on the U.S. Capitol.
---
Black communities initiative rejected several organizations for being insufficiently Black. Denial of federal funding to Operation Black Vote for not being "led and governed by people who self-identify as Black" led social development minister Ahmed Hussen to get contrite.
---
The surreal life of an agent
Kamala Harris still has an aunt and uncle living in Canada, who recently appeared on Rosemary Barton Live, a reminder that portrayals of the incoming U.S. vice-president as an inveterate Montrealer aren't over yet. Meanwhile, less thrilled to be seen as American is Sudbury realtor Jenna Ryan, who isn't the one just arrested in Texas:
---
It's the 50th anniversary of Canadian content regulation on radio. CRTC rules that took effect on January 18, 1971, increased from 30 to 35 to 40 per cent over the past two decades. But some quirks of the policy remain grandfathered in. To wit, a Leonard Cohen collaboration with Phil Spector counted as Cancon because it met the MAPL system criteria for artist and lyrics.
---
Finally, after all the drive-ins
Dvsn are the Drake-adjacent Toronto R&B duo who distinguished themselves during the pandemic as drive-in concert specialists. Amusing Her Feelings, their new OVO Sound project, involves adding four tracks to last year's album A Muse in Her Feelings. A cover of the Kings of Leon song "Use Somebody" helps to articulate Dvsn's inspiration point: