Discover more from Twelve Thirty Six
Canada's News Burrito 🌯 media, culture, politics (via Toronto)
A new 12:36 starts with something about Butts
Gerald Butts quit the Prime Minister's Office. Yet the principal secretary to Justin Trudeau says it wasn't about SNC-Lavalin or the drama around Jody Wilson-Raybould. Possibly, it was just an intended leave of absence so that Butts can work on the October election.
---
The escalating fight over Sidewalk
Calls for scrapping the Google-affiliated Toronto redevelopment project are getting louder amidst the revelation that Alphabet is actually seeking 350 acres along with a cut of the development fees and taxes.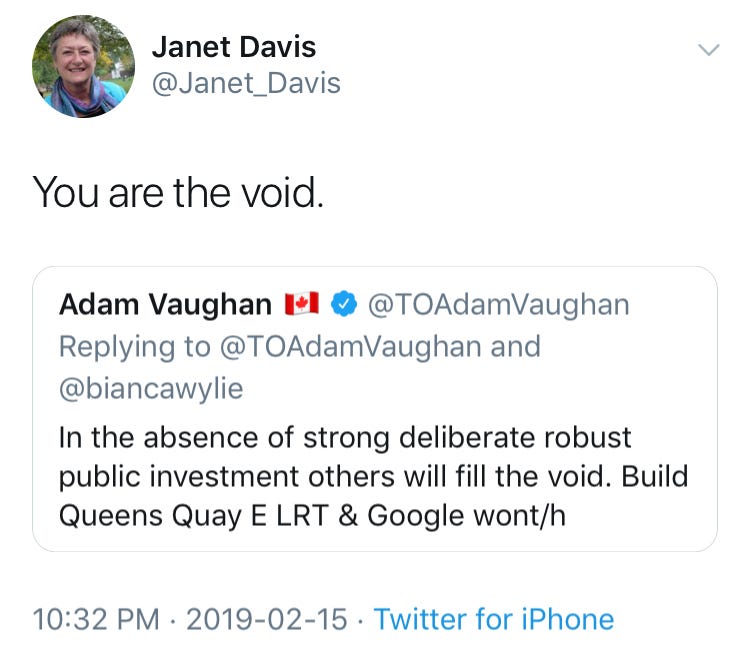 ---
HideSeek, a two-month-long Dundas West installation for infantilized adults seeking shareables for Instagram, looks like the next symbol of where gentrification is going:
---
"The Great Stork Derby" never gets old
Stephanie Foo revisits the story of the baby-making contest that Charles Vance Millar proposed in his will, leading up to a family reunion of descendants of Grace Bagnato—the woman who prolifically participated in the derby, yet walked away with nothing. The rest of us can drink Stork Derby Stout. 
---
No Name® beer may be worth a buck
Leave it to clickbait site Narcity to give the discount beer a disappointed appraisal. A few YouTube reviews were more in the spirit of what to expect from a six-pack that the LCBO fleetingly peddled for $6.60:
---
Finally, the latest
12:36
obituary list
Paul "Mr. G" Gwartzman, who founded Gwartzman's Art Supplies at 448 Spadina Avenue in 1950. It's probably the last of the old-school Jewish businesses around Kensington Market.
Harold "Zoltzz" Weisfeld, the owner of Beach thrift shop Ends, who, upon closing in 2017 after 35 years, got press for his rantings about empty storefronts on Queen East.
Karl Lagerfeld, 85, the fashion designer who made his first trip to Toronto in April 2015—with his cat Choupette in tow—to promote his lobby designs for the Art Shoppe Condos.