Discover more from Twelve Thirty Six
Canada's News Burrito 🌯 media, culture, politics (via Toronto)
The final 12:36 for the first half of the year
Begins with a story about basketball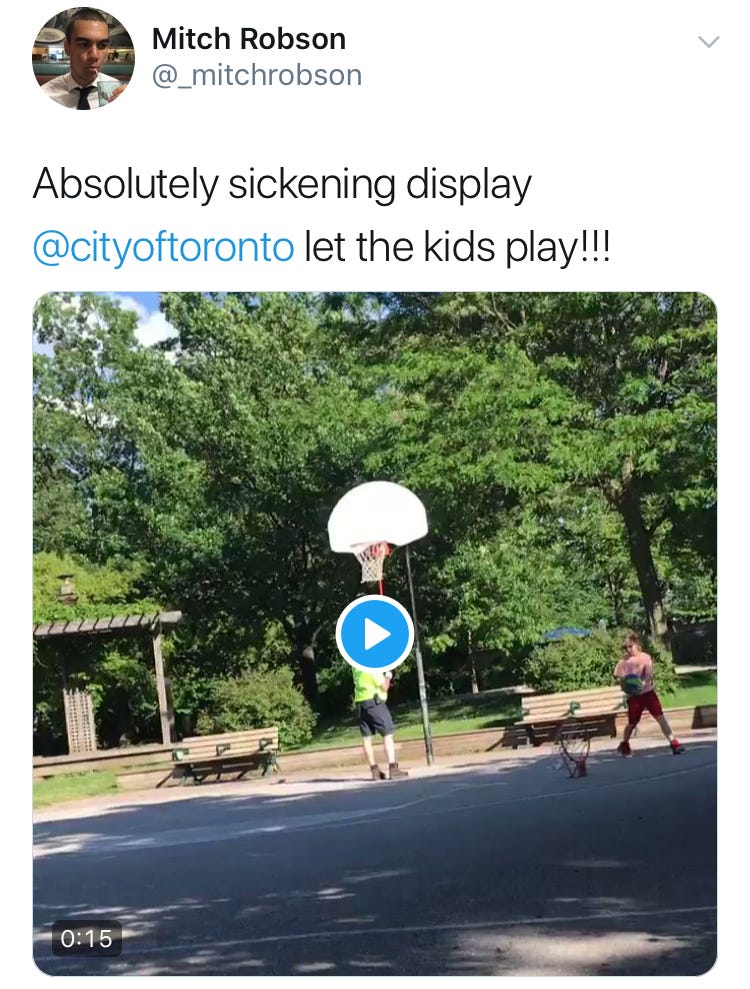 This video of a basketball hoop being removed at 6 p.m. got a swift reaction from the mayor—and now Toronto policy is to keep all of these rims intact unless a neighbour complains.
---
Aviva's advert earns free media
The insurance company installed yellow flags in yellow canisters at what it deemed to be Toronto's nine riskiest intersections, but the city told Aviva to knock the stunt off.
---
Six weeks of robotic mispronunciation. The strange way that the TTC's automated voice says "Avenue" will be fixed come August 4. What bus riders are now generally hearing as "aVEENoo" was a quirk of wanting to make the voice sound less American.
---
The shady side of shitposting
After the CPC was accused of deliberately darkening Justin Trudeau's face in an attack ad, it was pointed out that the PM's mug was grafted onto a stock photo of an oil worker:
---
Bird e-scooters about to zoom around Alberta. Calgary and Edmonton will be the first Canadian cities to acquire the ride-sharing fleet that has the rest of the country in its sights. (Electric scooter riding on public property is illegal in Toronto—for now, anyhow.)
---
Hudson Yards without all the stuff
While the proposed Sidewalk Toronto development is easily likened to that shiny new one in NYC, the developer of Hudson Yards has a Toronto plan that involves less surveillance:
---
Anne Johnston dead at 86. First elected to Toronto city council in 1972, she also ran for mayor twice. The councillor who Johnston beat in the 2000 election, Milton Berger, died on May 19 at age 94. Johnston was ousted from city hall when those annoyed by her brokering a condo deal at Yonge and Eglinton found a candidate to successfully challenge her.
---
Scandal comes for Kinga Surma
Doug Ford named 31 MPPs to parliamentary assistant positions that will add $16,000 to their salaries—and that was after attention to public appointments linked to former chief of staff Dean French. And now there's a whiff of nepotism involving a fresh Ford Nation face:
---
Finally, the 12:36 newsletter will return on Tuesday, July 2. Catch up on other weekly newsletters from friends of 12:36: Retrontario, The Jumpstack, ms.info and SHuSH.