Discover more from Twelve Thirty Six
Canada's News Burrito 🌯 media, culture, politics (via Toronto)
Steph Curry expects better from Toronto
Where the NBA gets a GoFundMe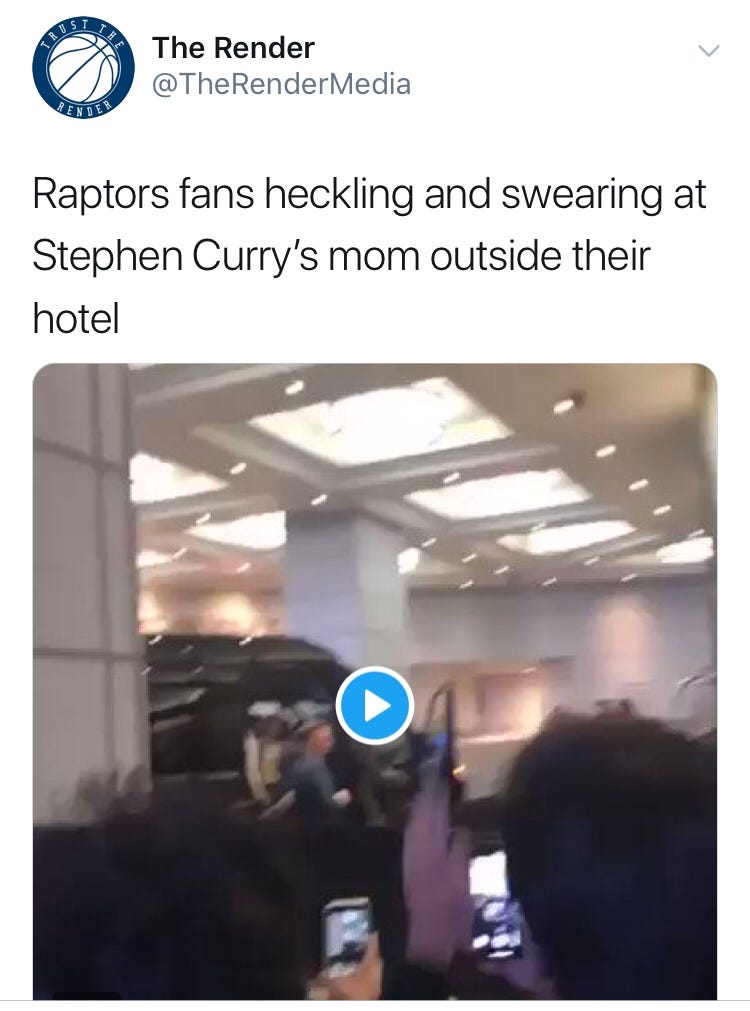 The origin of the video is unclear, but Stephen Curry still thinks it's "kind of stupid," especially since the Golden State Warriors point guard's dad once played for the Raptors. Toronto fans looking to make amends for trash talk are presumably the ones donating to Kevin Durant's charity in the aftermath of Achilles surgery that'll keep him off the court.
---
Bell tries balancing things out
An app service outage that coincided with the final moments of Game 5 has resulted in Bell Canada giving $10 credits to affected viewers. The company will at least partly make up for the financial loss by snatching commercial slots away from Rogers on the ABC simulcast.
---
The unlimited data plans that come with a throttle. Rogers unveiled "Infinite," which costs $75 a month—albeit with slower speeds beyond 10GB. Bell and Telus quickly followed with similar offers. (The federal NDP has a campaign promise to make it all cheaper.)
---
The onion-peeling political chief
Even as he's still suing ousted Ontario PC MPP Randy Hillier for defamation, the management style of Doug Ford's chief of staff comes up in a Toronto Star report on a looming cabinet shuffle. Dean French reportedly scolded a caucus member to the point of tears, while another MPP told the premier that being at Queen's Park was like working for the KGB.
---
Julia Munro dead at 77. The longest-serving female legislator in Ontario history was the York-Simcoe PC MPP from 1995 to last spring, when she retired from politics. (Munro's riding was taken over by Caroline Mulroney.)
---
Jordan Peterson's safe space
Thinkspot is the platform that JBP plans to launch in August, with a vow to monetize creators—and force each comment to have a minimum of 50 words to discourage trolling.
---
The federal journalism fund is about to get real. The Hill Times outlines the start of the process of deciding which outlets deserve a piece of the feds' $600 million bailout fund, and debunks any claim that routine media monitoring contracts are part of the handout.
---
Finally, going back to a Grand Old Lady
Massey Hall will re-open in 2020, alongside the publication of a book about its history. An update on how those renovations are going took Jim Cuddy of Blue Rodeo along for a look: