Discover more from Twelve Thirty Six
Canada's News Burrito 🌯 media, culture, politics (via Toronto)
Push comes to shove in Raptors court clash
Deputy disputes racial profiling claim
A deputy sheriff from Alameda County suffered a concussion and jaw injury, claims his lawyer, after an altercation with Raptors president Masai Ujiri. Meanwhile, the Golden State Warriors fan who watched the incident has changed his eyewitness account.
---
Fun guy is a bigger tourist attraction
A day trip found Kawhi Leonard surrounded by gawkers. But it was likely calmer than any walk in Toronto, where even the public library is hounding him to stay with the Raptors.
---
Still processing the Raptors victory parade. The celebrations provided teachable moments should this event ever happen again. The TTC is claiming 1.1 million extra rides on that day.
---
People's approach to publicity
Maxime Bernier is about to announce Toronto candidates for his People's Party, as part of a federal election campaign likely to consist mostly of trading insults with the news media:
---
Trans Mountain will be built upon a climate emergency. Ottawa voted to declare a climate change crisis right before the latest pipeline approval. And now an advertising campaign takes aim at Doug Ford's carbon plan as nothing but a carbon copy of Justin Trudeau's.
---
A bunch whose appeal is split
#TrudeauIsBananas heralds the emergence of Canada Proud, the federal iteration of Ontario's shitposting leader, which hired a costumed crew in Ottawa to mock Trudeau slip-ups:
---
Kiss 92.5 wants to boost its radio wattage. Following a power increase granted to Indie88, the Rogers pop station is begging the CRTC for a similar benediction. Kiss coaxed 150 listeners to complain about fuzziness not experienced by its Bell competition, Virgin 99.9.
---
Finally, the graduation wrecking ball
Stephan Moccio is Western University's famous music faculty graduate, who has co-written hits like "Wrecking Ball" by Miley Cyrus. Now he's infamous for a convocation speech in which he offered recollections like arriving at the school with a sign that said, "Thank you fathers for dropping off your virgin daughters."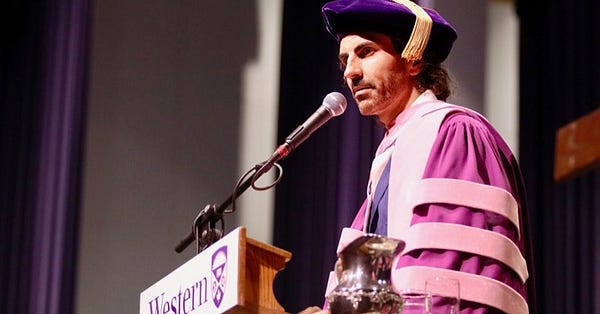 news.westernu.ca
Western News - Moccio issues apology for Convocation remarks
Stephan Moccio issued the following apology regarding remarks made during the Monday morning session of Convocation.