Discover more from Twelve Thirty Six
Canada's News Burrito 🌯 media, culture, politics (via Toronto)
Political cartoonists in the new age of apology
Plus, new wave nostalgia from Sting
Journal de Montréal cartoonist Yannick "Ygreck" Lemay joined a parade of caricaturists making news for apologizing for editorial cartoons. (Theo Moudakis of the Toronto Star similarly regretted his sketch of Justin Trudeau being approached by an avalanche upon being reminded that the PM's bother Michel died in just such an accident.)
---
#HereForCelina is over Ottawa
Celina Caesar-Chavannes won't seek re-election as a Liberal MP in Whitby, but says the decision isn't related to SNC-Lavalin. Also not re-running: Nathan Cullen, the NDP MP, making it 13 of the party's 44 elected members who won't be standing as candidates.
---
Facebook denies that it threatened Canada over lobbying demands. Court documents nonetheless suggest that FB boss Sheryl Sandberg offered to open a data centre on the condition that Stephen Harper's government promise to keep its hands off data from non-Canadians. (But the centre ended up in Iowa.) 
---
Five-alarm fire death in the basement beside Corrado's Barber Shop. The building at 160 Bathurst is next door to where Corrado Accaputo cut hair for 55 years. While now retired, Corrado still has his name on the store—and owns that neighbouring house.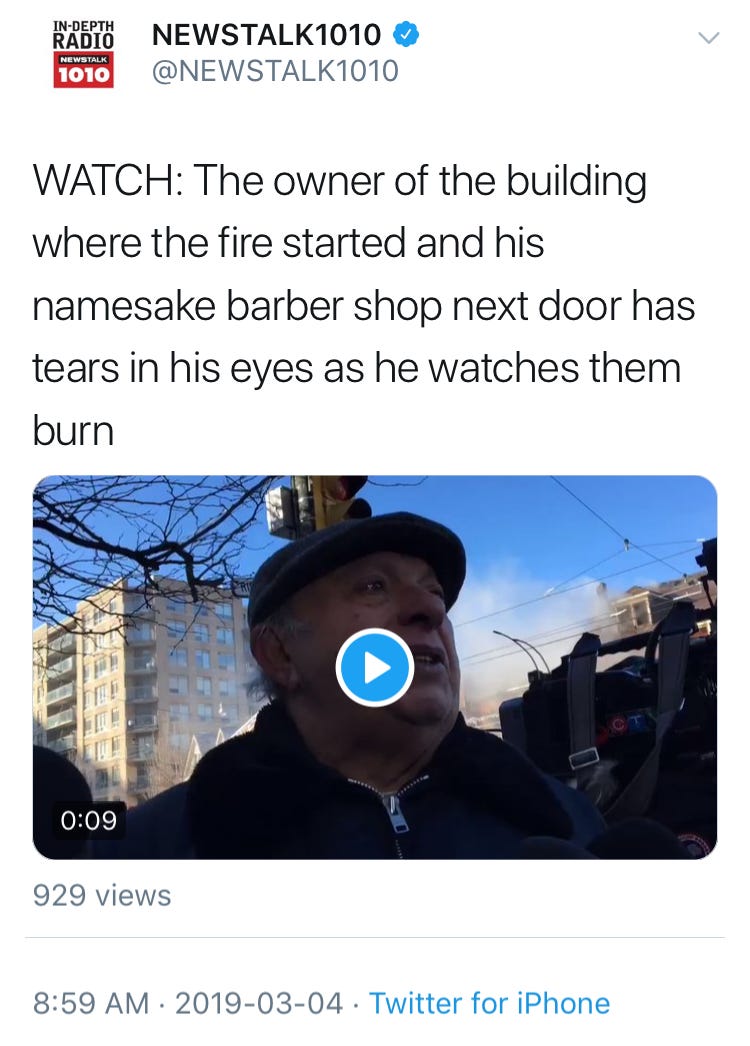 ---
"I feel like I've been had." Broken Social Scene singer Ariel Engle regrets taking $500 to sing on Morrissey's cover of Joni Mitchell's "Don't Interrupt the Sorrow," now that The Guardian is on a mission to find musical collaborators who will denounce his political views. Meanwhile, the Mozzer will break his Canadian boycott in April, just before heading to Broadway. 
---
Sting's very own sighting selfie
Downtown run-ins with The Last Ship star have become a trend. Some thirty years after visiting Queen and Spadina to sign books about the rainforest, Sting returned to the corner where the Police debuted in Toronto, to a tiny crowd on November 3, 1978.
---
Funding drive clears some of the air around Jazz.FM91. After the station's membership overturned its board by a vote of 449-440, two people who abruptly left returned to fundraise: Heather Bambrick and Terry McElligott. The former Jazz.FM CEO often cited as a source of conflict, Ross Porter, retains a Saturday show.
---
Finally, spring dreams from Ed Bickert
Toronto's chilled-out jazz guitarist is dead at 86. "It Might As Well Be Spring" was on Bickert's 1975 album, taped amidst the clinking crowd sounds of George's Spaghetti House.