Discover more from Twelve Thirty Six
Canada's News Burrito 🌯 media, culture, politics (via Toronto)
Permission to say it's another effing Monday
Bianca Andreescu avoids a big bleep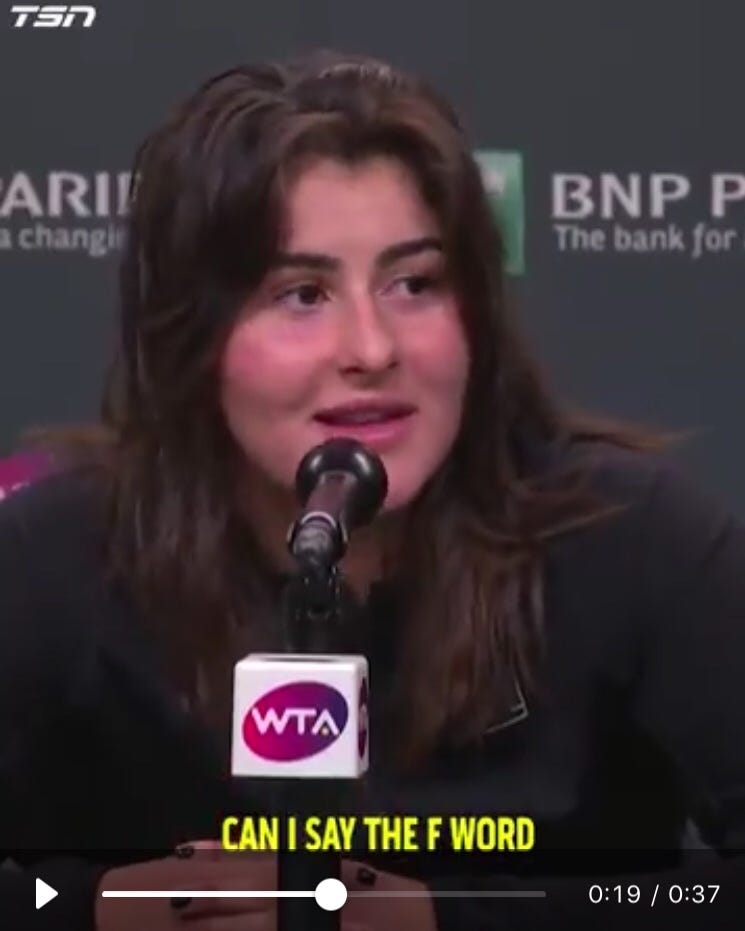 "I'm the effing champion of Indian Wells," 18-year-old tennis player Bianca Andreescu settled for exclaiming instead, now that she's the biggest rising star from Mississauga. 
---
Mosque tragedy turns into epic Twitter fight
Conservative leader Andrew Scheer issued a second statement about the attacks in Christchurch, New Zealand after catching much flak for the first try, in which he failed to mention that the victims were Muslim. Amidst these battles, Maxime Bernier says his new People's Party will be sitting out the rituals of social media thoughts and prayers.
---
The newspaper lobby hopes to be its own biggest federal budget headline. But there's still uncertainty about what finance minister Bill Morneau will bring them Tuesday, amidst a promised $595 million worth of tax credits and incentives. Facebook, which those lobbyists blame for many of their woes, meanwhile claims that it's ready to rain on "news deserts."
---
Union Station's skinny tall neighbour
While renovations may never end at the transit hub, here's a proposed adjacent tower that'd have Front Street running through its base: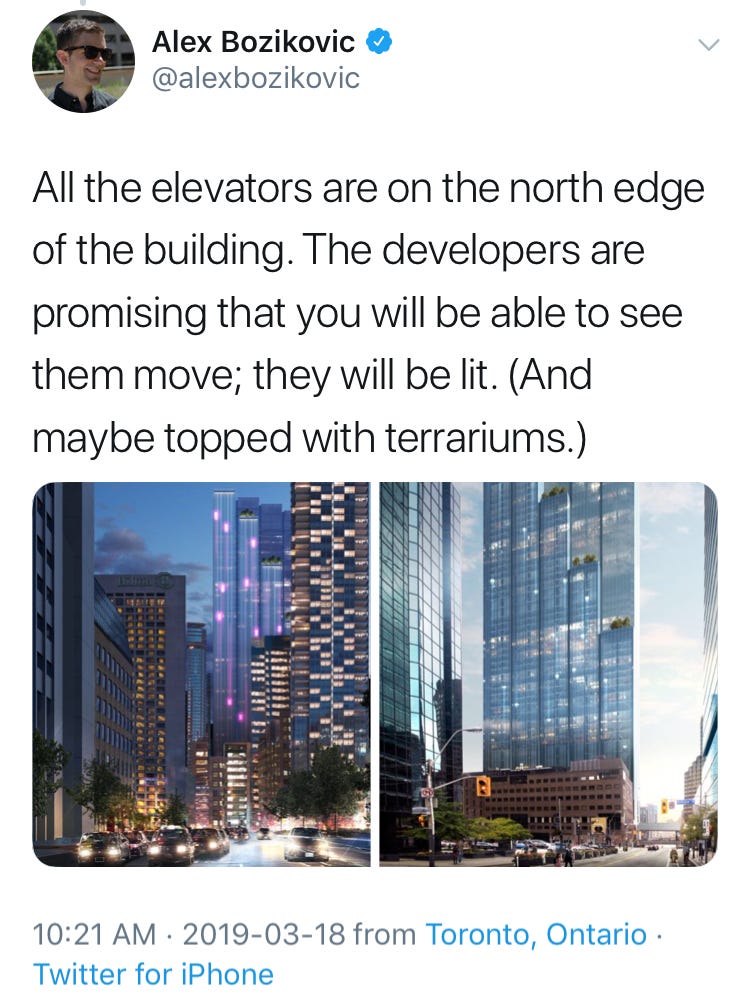 ---
Coffee Time closure crisis comes to Bloor and Jane. While the chain's parent company is probing pot shops, Coffee Time has shed a couple of prominent locations in Toronto. The latest store to vanish was the one uniquely adjacent to a subway entrance.
---
Juno Awards respect 1980s Quebec 
Montreal native Corey Hart basked in his Hall of Fame induction during the Junos telecast. Beforehand, an act that has been around for about as long was more quietly honoured. Voivod, the metal band from Jonquière, scored a trophy 28 years after first being nominated:
---
Justin Haynes dead at 46. The prolific musician, originally from Ottawa, recently wrote stories for Now Magazine. A harrowing piece about three days and nights at Seaton House was followed by another about Toronto's "affordable housing trap."
---
Finally, the view on Deko's dancefloor
Jason "Deko" Steele, a veteran DJ who died on March 15, was a staple of the Diamond Club from 1984 through 1990—when he was lured away by its competition, the Copa. (The Diamond closed shortly thereafter, and was replaced by the Phoenix Concert Theatre.) A video that Steele shot from his Diamond booth offers a throwback to that less-distracted era: