Discover more from Twelve Thirty Six
Canada's News Burrito 🌯 media, culture, politics (via Toronto)
Obama and 'O Canada' join forces for C-Day
And the enemy is Andrew Scheer
Barack Obama boosted Justin Trudeau with a tweet that wasn't paid for—although the ex-president has been rewarded for appearing at events from Liberal-linked think tank Canada 2020. The benediction of Obama arrived three hours and 14 minutes after Jagmeet Singh co-signed a recent "Tax the rich." tweet from Alexandria Ocasio-Cortez: "On it."
---
Astronaut floats a new one
Liberal MP Marc Garneau, who previously scolded Andrew Scheer for lacking water-safety skills, was commissioned to drag the Conservative leader once more. Andrew Scheer said he was protesting a lyrical change being used as "a political statement."
---
It's been a year of fully legal cannabis in Canada. The anniversary of "C-Day" comes with legality for edibles, extracts and topicals, which can't be legally bought yet. Also, news of more politically linked weed rewards: Jodi Butts, the wife of a Liberal party operative, stands to score significant bank on the board of cannabis company Aphria.
---
A public broadcasting face-off
CBC president Catherine Tait issued a statement about suing Conservatives for using CBC News video in a campaign ad. Tait doesn't believe that adding reporter names to the suit compromised their credibility, although they've been removed as applicants. Meanwhile, the CBC opts for this frame to advertise political coverage on Facebook: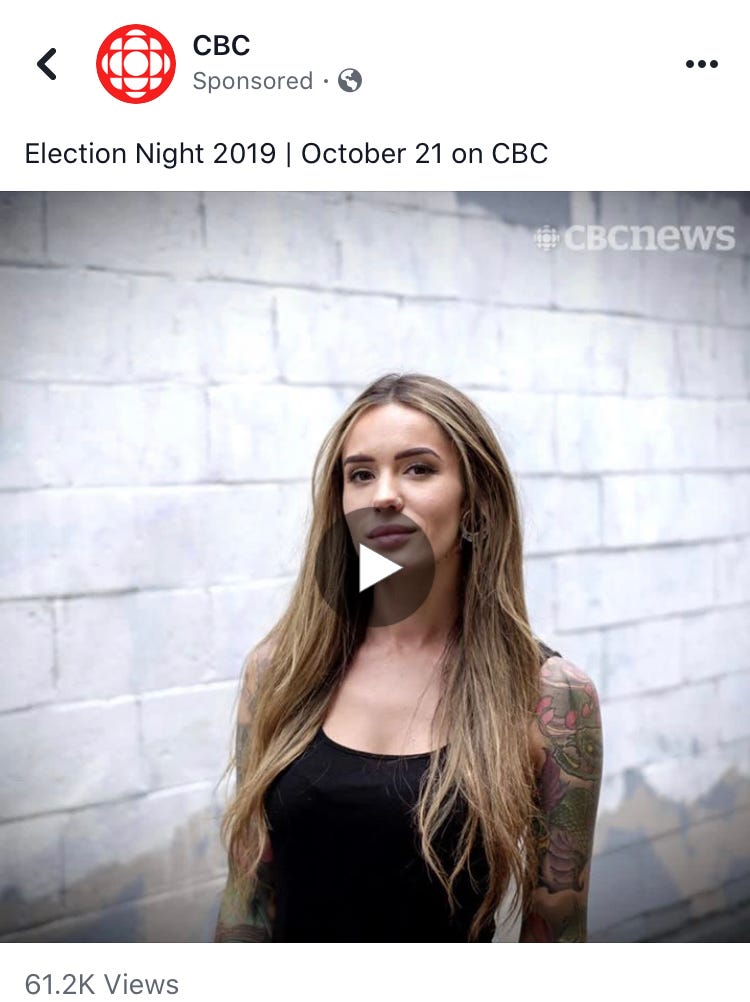 ---
Meghan Murphy wasn't invited to a radio debate about her event at the Toronto Public Library. Instead, it was city librarian Vickery Bowles who went on CBC's Here and Now to defend the TPL renting a theatre for Murphy's talk about gender identity. Mayor John Tory issued a statement that invites the library to reconsider the rental.
---
War on Halloween is a thing
Sloane Public School in Toronto issued an anti-costume edict, in the name of diversity and inclusion. CityNews facilitated a reversal of the policy after a parent pushed back:
---
Bread price-fixing amends created new disclosure overreach at Loblaw. Asking recipients of $25 gift cards to register them with sensitive information got on the radar of the Privacy Commissioner of Canada, which reined in those disclosure requests.
---
Finally, keyboard fantasies forever
Beverly Glenn-Copeland, the Mr. Dressup regular turned Japanese music cult icon, is paid glorious tribute at The Outline. The first U.S. concert by 75-year-old BGC is slated for December, following the premiere of a documentary film about how he got here: