Discover more from Twelve Thirty Six
Canada's News Burrito 🌯 media, culture, politics (via Toronto)
Nobody likes to look away from a parade
But here's the latest 12:36 anyway
Air Drake touched down with the Toronto Raptors, and the day after finds them on double-decker buses as part of a parade from Exhibition Place to Nathan Philips Square.
---
"Plant Guy" doing it all for Kawhi
Know Your Meme has an entry to immortalize a Raptors fan carrying a "Kawhactus" that he hoped to give to Kawhi Leonard as a housewarming gift for staying in Toronto. (Plant Guy could prove a more reliable parade narrator than the revived Peter Mansbridge.)
---
Masai Ujiri may be charged with battery. Despite conflicting accounts about whether the Raptors president struck a deputy while trying to join his celebrating team on the court in Oakland, the latest from Almeda County is that its sheriff's office could release a video of the altercation as justification for charging Ujiri.
---
Doug Ford's big Pride surprise
The premier took a stand against parading with the Raptors, not to mention Toronto Pride. News media wasn't alerted to DoFo marching in York Region. And yet, there he was:
---
Indie88 will triple its reach with help from Elmnt FM. A power boost for 88.1 was approved by the CRTC on the second try, thanks to signal pattern changes negotiated with the eclectic Indigenous outlet at 106.5. Meanwhile, G98.7 risks losing its licence because of financial troubles exposed in court following the death of founder Fitzroy Gordon.
---
Mirvish admits a screech-in misstep
The Simpsons mocking Newfoundland couldn't be retroactively withdrawn, but a Toronto promotion for Come From Away succumbed to a cultural-appropriation backlash:
---
Sean McCann dead at 83. The veteran Toronto actor played Chris Farley's mentor in Tommy Boy, and he had 160 other screen credits. McCann also ran as a Liberal in the 1977 provincial election, and served as an amateur scout for the Toronto Blue Jays.
---
Finally, in belated memory of Wheels
Neil Hope, the Degrassi actor whose 2007 death in a Hamilton rooming house wasn't made public for five years, finally had a memorial guestbook available at Degrassi Palooza, a weekend event where original cast members hung out with their lifelong fans: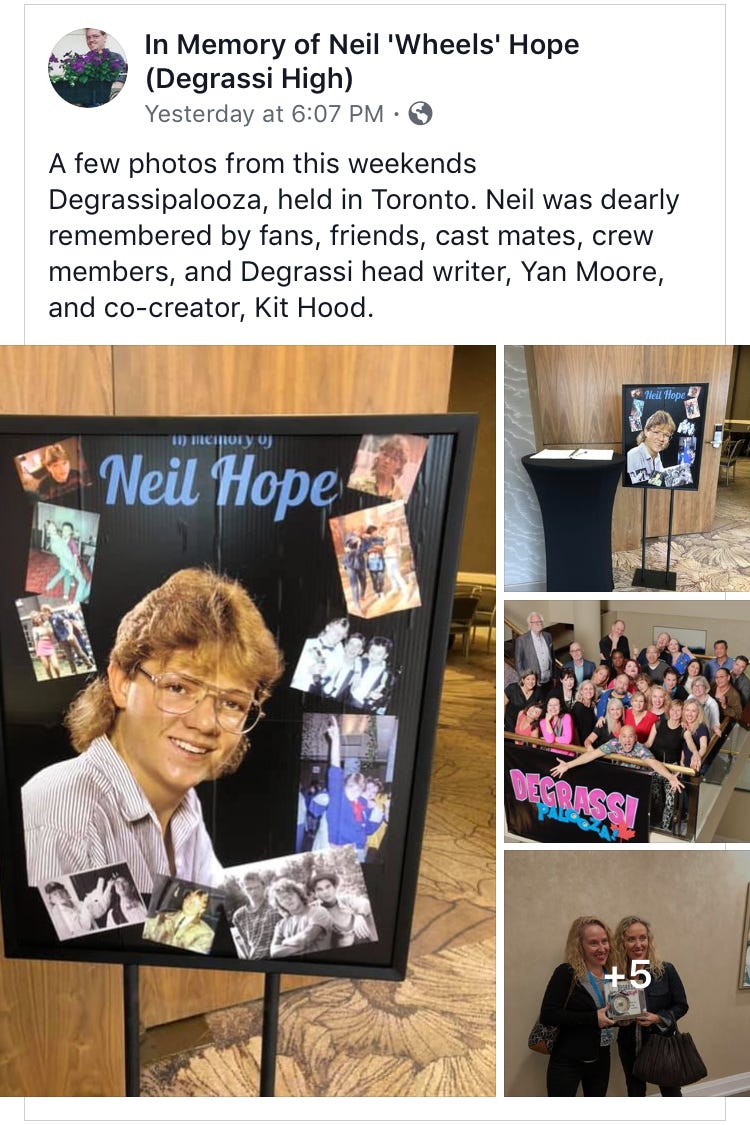 ---
Retrontario has more old news you can use. Tales of '70s, '80s and '90s Toronto TV arrive later Monday afternoon, if you're subscribed: