Discover more from Twelve Thirty Six
Canada's News Burrito 🌯 media, culture, politics (via Toronto)
"Naked man" police tweeting season has begun
And the ethics of exposing each one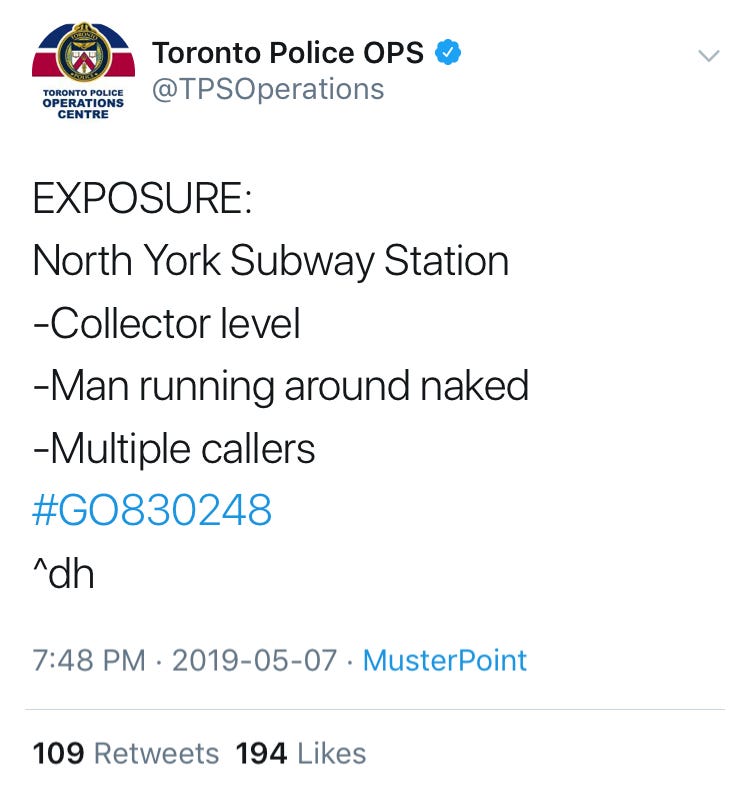 Toronto police poet David Hopkinson wonders if he should share more "EXPOSURE" alerts about people being naked in public. The tweets typically get giggles, even if surrounding circumstances aren't so amusing. But who can forget the naked trespasser who reportedly soaped himself up in somebody else's backyard, then took away some tomatoes. 
---
Green with the opposite of envy
The latest blow to Justin Trudeau surrounds several former Conservative cabinet ministers helping to collapse the secrets-leaking case against Mark Norman. As for Jane Philpott and Jody Wilson-Raybould, both ex-Liberals could really end up running for the Greens.
---
"I think things could have been handled better and I will be reviewing the protocols and procedures with my team." MPP Sam Oosterhoff expressed regret over the cops being called on a senior-citizen book club at his Niagara West constituency office. The retirees found more support for their protest against library service cuts with the NDP.
---
The last days of red and white
Reports of patients being refused healthcare because they never upgraded their photo-free mid-'80s OHIP cards stoked further confusion about whether those cards are still valid. The province says their time is almost up—but the switchover deadline is still yet to be set:
---
The Art Gallery of Ontario is hunting younger numbers. Membership at the AGO will decrease from $110 to $35 a year, at least for a year, and under-25s can get in for free. Contemplating the cultural significance of the shift is a cover story at Now Magazine.
---
There's no business like newspaper business
While the Toronto Star offers free subscriptions to students—under the guise of giving them election news—the Globe and Mail aspires to cut $10 million by shrinking staff: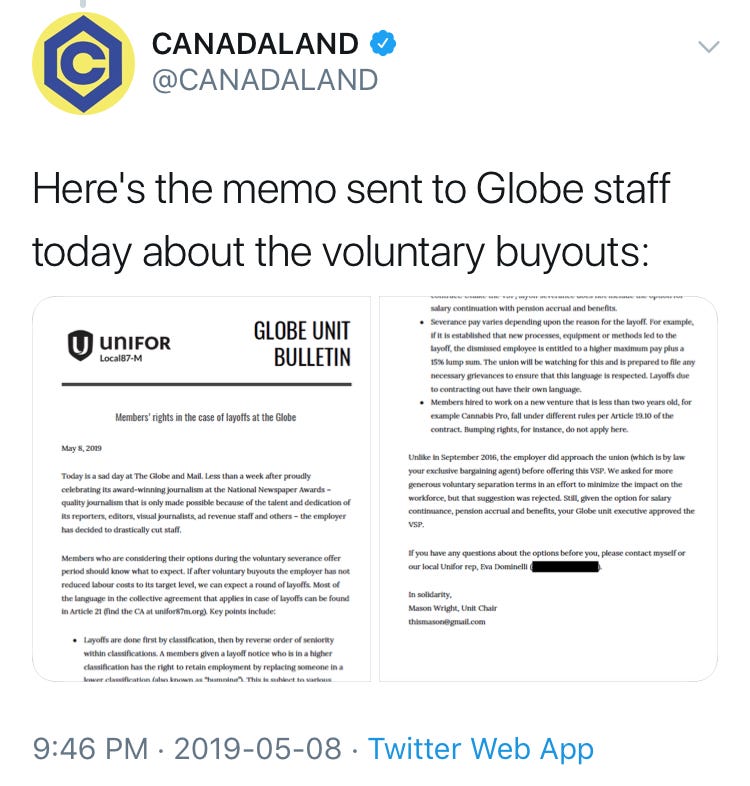 ---
Walt Disney Co. has written off the half-billion it poured into Vice. Its investment is now officially worthless—although Vice Media recently got $250 million in debt funding from investors, including George Soros. Meanwhile, Vice Canada broke news of a former Heritage Front leader working for the city of Hamilton.
---
Finally, you live, you learn, etc.
Jagged Little Pill is opening on Broadway this fall, following its premiere run in Cambridge, Massachusetts. And so, if you've ever wondered what it's like to hear an Alanis Morissette song interpreted in the style of a stage musical, knock yourself out: