Discover more from Twelve Thirty Six
Canada's News Burrito 🌯 media, culture, politics (via Toronto)
Marilyn Denis skincare scammers exposed!
And the ringleader is already dead
Marilyn Denis was one of the boldface names exploited by a San Diego marketing agency as part of a massive scam revealed by BuzzFeed News. Asher Burke, the CEO of Ads Inc., died in a helicopter crash in March. The tactics had been bewildering Canadian celebrities.
---
"The TikTok election" arrives
Jagmeet Singh's social media enthusiasm shifted to TikTok, allowing the youthful app to have an election moment: the NDP leader joined more than 584,000 others in making a meme set to the first 15 seconds of E-40's rap ditty "Choices (Yup)." Back in reality, Singh laid down the NDP position on a rival party: "We don't respect Conservatives."
---
Justin Trudeau coalition talk is fixated on 1972. That's the year that his dad ran in an election that turned into a statistical showdown between Liberals and Conservatives, resulting in an NDP-saving scenario for Pierre Trudeau that may happen again. PMJT could keep his job even if he doesn't win the most seats.
---
Will the world hear of Scheer?
"The Man Who Could Beat Justin Trudeau," by Simon Lewsen at The Atlantic, explains Andrew Scheer to an ostensibly international readership. But things could also end with this clap back at a CBC lawsuit being what the Conservative leader is most remembered for: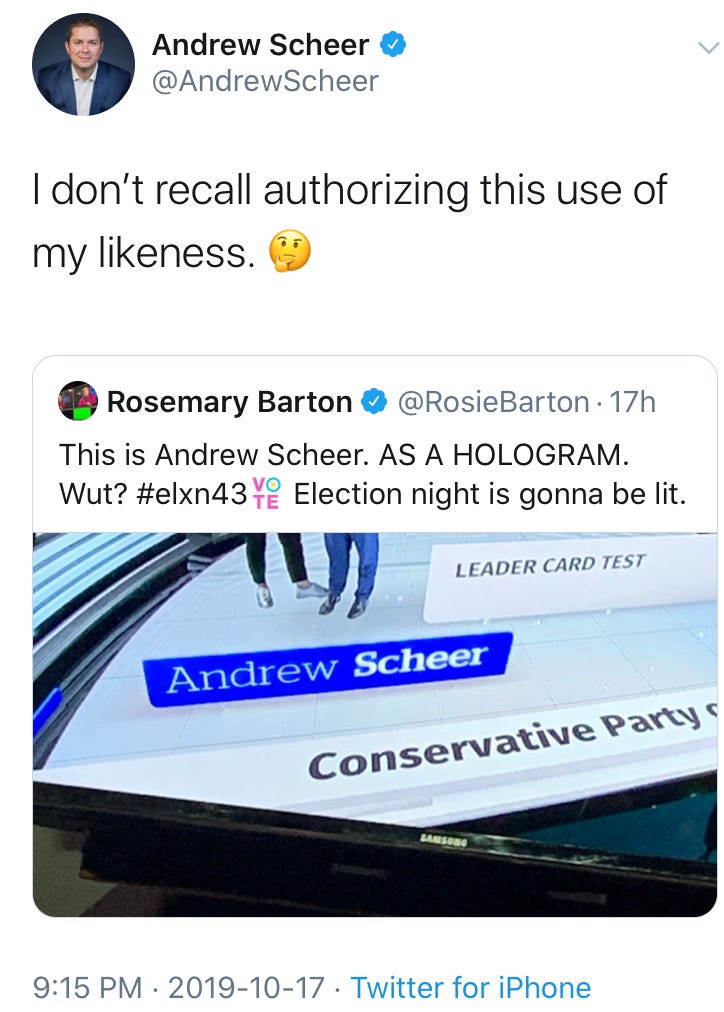 ---
Google gives up on WeWork in Toronto. Talks for a potential lease at 357 Bay Street, the kind of futuristic co-working space that inflated WeWork's valuation before recent turmoil, ended with Google opting for a deal with IWG's Spaces at Royal Bank Plaza.
---
City librarian won't back down
Vickery Bowles of the Toronto Public Library is standing her ground over renting space to a talk that the mayor would rather see cancelled, as would the library workers union. The organizers issued a statement to explain the intentions behind the event:
---
"How Did a Bosnian-Canadian Filmmaker Become L.A.'s Most Electrifying New Rock Singer?" Nina Ljeti has the hype machine working in favour of her band, Kills Birds. Previously, she was one of the student filmmakers under the wings of James Franco.
---
The winner of
Kenny vs. Spenny
Kenny Hotz isn't selling personalized video selfies like erstwhile TV rival Spencer Rice, although he's done him one better. Suburban commuter magazine On the Go has a weirdly nihilistic cover story about Hotz, who's currently glowering all around Toronto:
---
Finally, this newsletter returns on Tuesday, October 22. But a special 12:36 p.m. edition of the Retrontario newsletter on Monday will feature unexpected election recollections. You gotta be subscribed to get it on time: