Discover more from Twelve Thirty Six
Canada's News Burrito 🌯 media, culture, politics (via Toronto)
How to reluctantly shut Presto machines down
TTC hacker vigilantes are here to help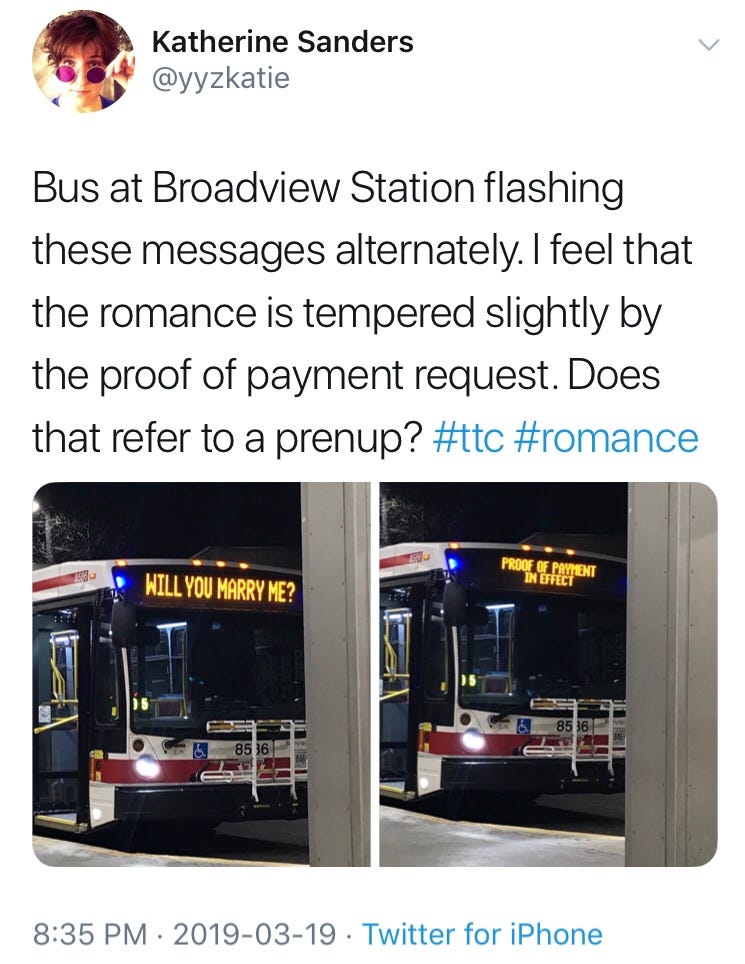 Reports about increased TTC fare evasion might be creating more rider desire to do something about it. Software guy Robert Leyzerovich shared some videos of himself managing to hack the Presto system by trying to use the card uploading function on its app. When he tapped his card, Leyzerovich claims the gate screen went black, requiring a restart process during which others entered for free. 
---
Tokyo Smoke reviving 333 Yonge
The former HMV flagship location hopes to shift to something more enduring than fidget spinners: a cannabis store under Canopy Growth's Tokyo Smoke brand. While the first of Ontario's licensed cannabis storefronts will open April 1, others might take longer.
---
Maclean's and Chatelaine saved by St. Joseph. Seven months after Rogers Media announced it wanted out of magazines, seven brands—including Canadian Business, Flare, Hello! Canada and Today's Parent—will be owned by St. Joseph Communications. (Feel free to speculate wildly on whatever this means for the St. Joseph-published 12:36.)
---
The hot new media acronym is QCJO
It stands for Qualified Canadian Journalism Organization, a status that will be conferred on media outlets that are able to meet some confusing conditions attached to the government's new media-stimulus program. The wording makes it sound like the Liberal priority is supporting political reportage.
---
Honey and Barry Sherman's house is coming down. North York Community Council approved the swift demolition of the mansion where the billionaires were found dead. But the spectre of death doesn't creep out everyone: Maple Brook Homes wants to change the name of Cemetery Road in Uxbridge, even though its residents seem to have no problem with it.
---
Workin' Moms
is officially problematic
While homegrown bristling about the CBC sitcom centres on the industry connections of Ivan Reitman's children, landing on Netflix means the show has entered a new dimension: hot takes about how it exudes other privilege.
---
When your social media archaeology gets you faved at Fox News. Toronto writer Anna Fitzpatrick noticed a retweet of Democratic presidential candidate Cory Booker tweeting about cheating on sleep with his "hot" friend coffee, then ended up finding 13 more variations on that dad joke in a decade.
---
Finally, our very own
Toe Bro
Jonathan Tomines is a chiropodist at the Mississauga Foot Clinic who gained a significant following on YouTube for his focus on spectacular toe problems. Now he's taking on Dr. Pimple Popper with Toe Bro on A&E: