Discover more from Twelve Thirty Six
Canada's News Burrito 🌯 media, culture, politics (via Toronto)
Gambling in the streets, phones in the sheets
New tales from the resetting of Ontario
MPP Kinga Surma is riding shotgun with her boss for the purpose of getting the federal government to legalize single-event sports wagering—a subject that finds Doug Ford in sync with Unifor. (But even as Queen's Park angles to get permissive with betting, it's cracking down on smartphones in schools.)
---
Campus radio faces funding fear
While the final guidelines for the provincial Student Choice Initiative haven't arrived, it's likely that around 15 campus-based radio outlets will lose their guaranteed fees by this fall, even though they're still trying to push back at Queen's Park. Complicating things is that the FM community station concept tends to rely on volunteers who aren't students.
---
The tangled paper trail between Ottawa and SNC-Lavalin. National Observer found that the embattled Quebec engineering firm negotiated the first—and so far only—exemption under the pre-existing "integrity regime," four days after Justin Trudeau's first throne speech. Also, a global anti-bribery watchdog is on alert.
---
Sheila Copps leans into Twitter
The former deputy prime minister entered the vortex to stick up for the Liberal status quo—and ask if Jody Wilson-Raybould would have acted differently if the jobs at stake in the SNC-Lavalin affair had been Indigenous ones. This tweeting has also involved Copps denying that she's called anyone a "bitch."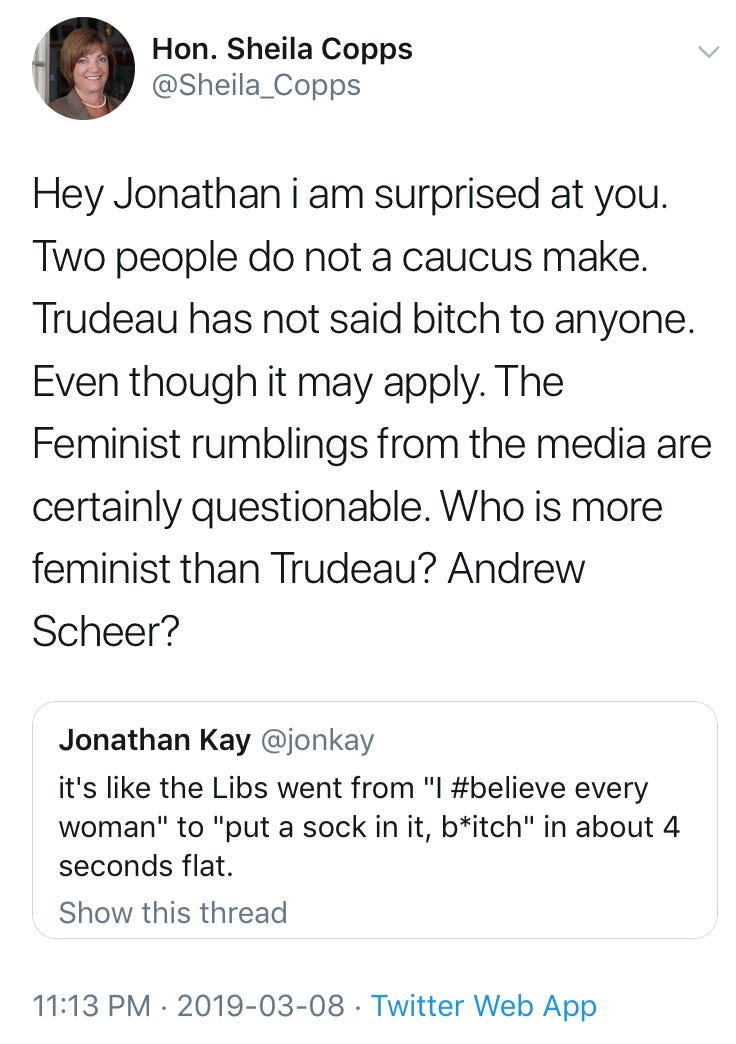 ---
Wendy Mesley took 49 days to apologize for getting the Covington story wrong. CBC's The Weekly aired a brief item on January 20 based on incorrect claims about the infamous standoff at the March for Life in Washington D.C. Some media outlets are facing nine-figure lawsuits about their reporting on the event. But Mesley's mea culpa cost CBC News nothing.
---
Drake cancelled Michael Jackson
Reaction to Leaving Neverland still hasn't eliminated MJ from Toronto radio, but the song "Don't Matter to Me" conspicuously vanished from Drizzy's set list, which was evidently enough to trigger the tempestuous temper of Canada's oldest living teen idol:
---
Malcolm Gladwell trashed David Frum 25 years ago, in a profile for Saturday Night magazine. Which put Gladwell ahead of the curve on the blowback that Frum received for his Atlantic article calling for U.S. liberals to limit immigration. Meanwhile, there's been some concurrent heat for Gladwell's sloughing off accusations of plagiarism.
---
Finally, a film that's just for sluts
Slut in a Good Way, a Quebecois teen comedy, is getting an American rollout through the Alamo Drafthouse theatre circuit. But a decision to promote it with "Sluts Only" screenings is bound to raise eyebrows given the Drafthouse's #MeToo issues. Nonetheless, the movie has already claimed more anglo attention than the typical franco production.