Discover more from Twelve Thirty Six
Canada's News Burrito 🌯 media, culture, politics (via Toronto)
From astronaut to Liberal social media scold
In cyberspace, keep your PFD near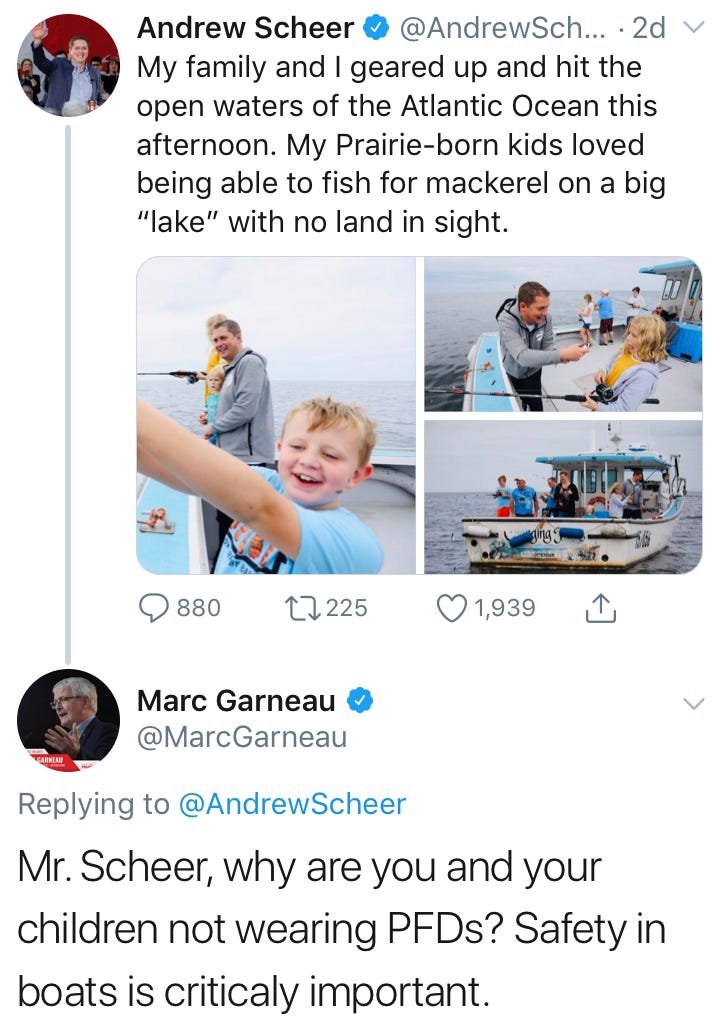 Marc Garneau, who was the first Canadian in outer space in October 1984, is now a Liberal MP who smarmily tweeted at the Conservative leader. (Andrew Scheer took no fewer measures to protect his kids on a boat than what you see in photos of Justin Trudeau.)
---
An odd climate change caution
People's Party leader Maxime Bernier's expression of doubts about the legitimacy of climate change has led to environmental charities being told by Elections Canada that promotion of concerns about CO2 can be deemed partisan during the campaign period.
---
"Jihadi Jack" might join Canada's election cast. Public safety minister Ralph Goodale is "disappointed" that the U.K. revoked the citizenship of Jack Letts, a 24-year-old accused former ISIS fighter in Syria, who can still technically call himself Canadian.
---
The CNE survives with a tiara
While coverage of the Canadian National Exhibition dives even deeper into nostalgia, the Ex can still count on enthusiasm from other parts of Ontario, due to young people competing for Ambassador of the Fairs. The contestant from Ancaster won this year:
---
Rosaria Pusateri dead at 94. Toronto's upscale food stores had humble fruit stand beginnings in 1963, when Rosaria opened Pusateri's Supermarket on St. Clair West with her husband Salvatore, who died just six days before she did—also at age 94.
---
Finally, sneakers of Sotheby's
Miles S. Nadal spent $850,000 on 99 pairs of the world's rarest sneakers, then shelled out $437,000 more for Nike's 1972 "Moon Shoes." (He plans to display them all at his automobile museum in Toronto.) So, an item in the front of the New Yorker was destined to follow: