Discover more from Twelve Thirty Six
Canada's News Burrito 🌯 media, culture, politics (via Toronto)
Forever 21 store no longer believing in Yonge
Sarko may get that corner to himself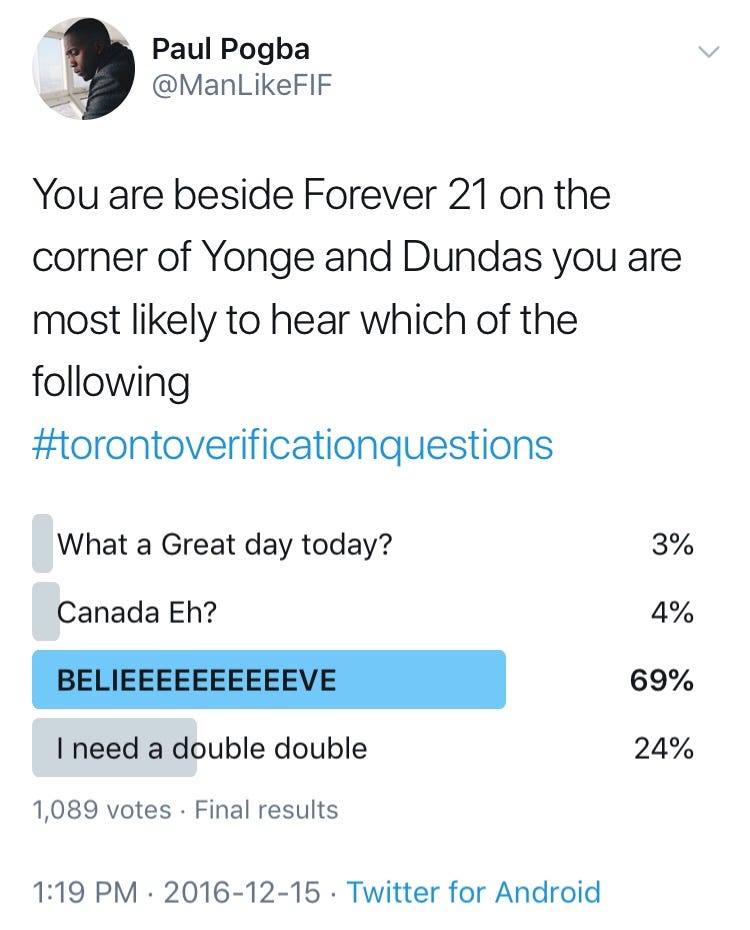 Yonge and Dundas will lose a corner tenant when Forever 21 leaves a building that was previously a Gap, and before that a Scotiabank—and whose upper level once hawked "more virile hair." The address is also synonymous with Sarko, the street preacher who often plants himself outside 302 Yonge, assertively imploring passers-by to believe in the Lord.
---
Mall overhaul faces mauling mob
Neighbours are always available to complain when the media pokes into plans to replace a parking lot with something residential. The city's call for proposals to study how to ease traffic around Yorkdale also asked planners to consider a new neighbourhood built upon the mall's asphalt within two decades, including a potential hotel. (The vintage Yorkdale Holiday Inn across the street is probably safe for now.)
---
Countdown to confusion at every crossing. Toronto Police are on a traffic safety blitz that includes drawing attention to how walking through a flashing hand is subject to a $50 fine. Yet the city's own website says that crosswalk countdowns were designed with pedestrians in mind.
---
A discount Justin Trudeau scandal
The PM vacationing in Florida is easier to get outraged about than SNC-Lavalin. Also trending: an image of an apparent Trudeau supporter reacting to a Toronto rally protester.
---
"EDITOR'S NOTE: National Post has edited this piece over safety concerns." The edits came after the paper followed up on The Rebel's discovery that Omar Khadr used $3 million of his $10-million settlement with the Canadian federal government to buy a strip mall in Edmonton. The mall's tenants are saying the Khadr connection has led to negative online reviews for their businesses, which are now being offset with positive ones.
---
Mies so horny for retro-modernism
CityLab has a new look at the architect of the Toronto-Dominion Centre, and a sequel about a part of his legacy that's less familiar to Toronto: the transformation of an Esso station.
---
TSN Radio appears to be reducing its payroll. Bell Media cutbacks are being blamed for changes that include axing sports morning hosts in Ottawa and Vancouver. TSN 1050 Toronto still trails in ratings behind Sportsnet Fan 590, but the gap narrowed in afternoons.
---
Finally, a decade of taking to Twitter
March 14, 2009 was when the Toronto Star printed the first piece of what became a three-week streak of annoying articles about Twitter, the emerging 140-character platform, as it gained momentum with journalists. The Globe and Mail published a few such columns, too, allowing us to look back wistfully upon this: