Discover more from Twelve Thirty Six
Canada's News Burrito 🌯 media, culture, politics (via Toronto)
Dreaming of the ROM Crystal's total demolition
Or, just imagining a more appealing look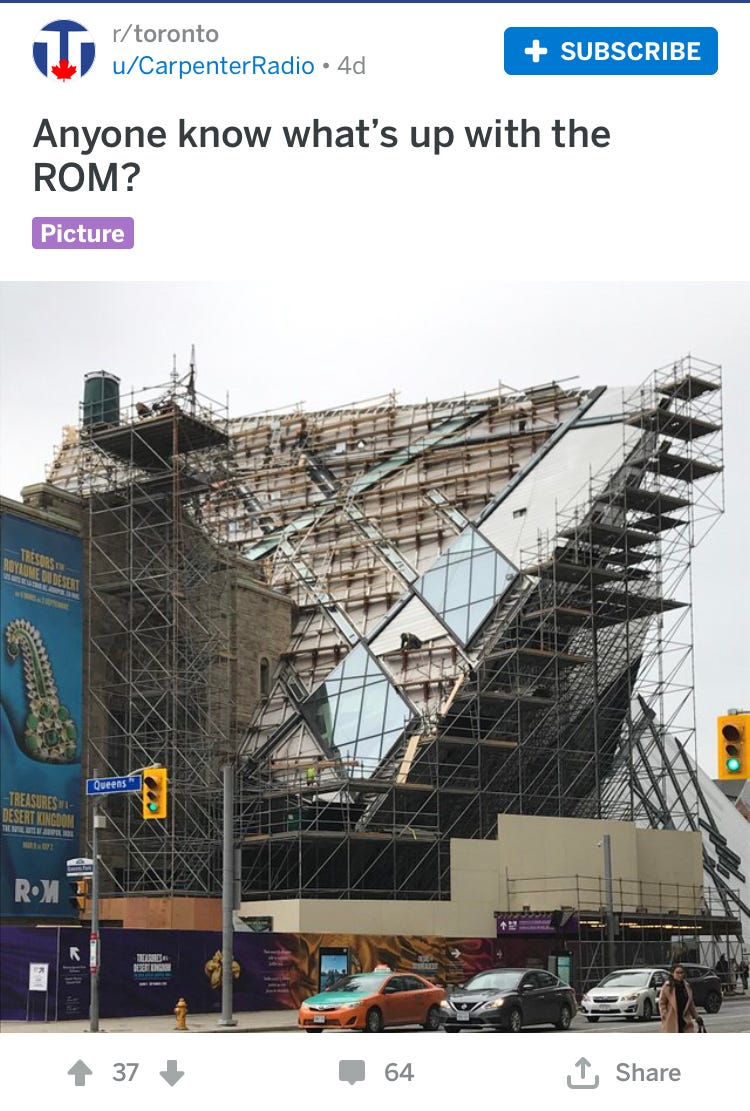 Work being done on Daniel Libeskind's beleaguered Royal Ontario Museum structure has people wishing that the cladding will end up looking better. (The 2007 predictions that the crystal would be demolished within our lifetimes may have to wait.) The speculation is that the renos are part of an effort to freshen things up as part of a wider revitalization. 
---
The intersection of artificial intelligence
U of T is dredging up the ghosts of Harold Innis and Marshall McLuhan to explain what'll become of the school's largest-ever donation, which is going towards a 750,000-square-foot complex at College and Queen's Park. 
---
Sandra Shamas Lane is coming to Christie Pits. The comic monologuist, who's originally from Sudbury, is being honoured with a sign east of Shaw Street. Shamas is among the living additions to the Toronto Laneway Project—joining a list that was tilting towards men. 
---
Justin Trudeau vs. the homophones
The latest in the SNC-Lavalin scandal includes the company walking back CEO Neil Bruce's claim that it never issued threats over lost jobs. Still in the PM's corner is the former deputy prime minister, who thinks all dissident Liberals should quit caucus:
---
"Why are you still here?" Ontario PC MPP Roman Baber asked this of former premier Kathleen Wynne in the legislature, as she continues to sit with six other Liberal MPPs. Meanwhile, the Ford government moves closer to bringing beer to convenience stores. 
---
Energy is back after 6,063 days away
Corus Radio dusted off the name that occupied Hamilton's 95.3 FM frequency for a flash in the early 2000s—when it failed to grow the audience it built down the dial at Energy 108. The brand returned with a morning duo who were fired from Virgin 99.9 last November: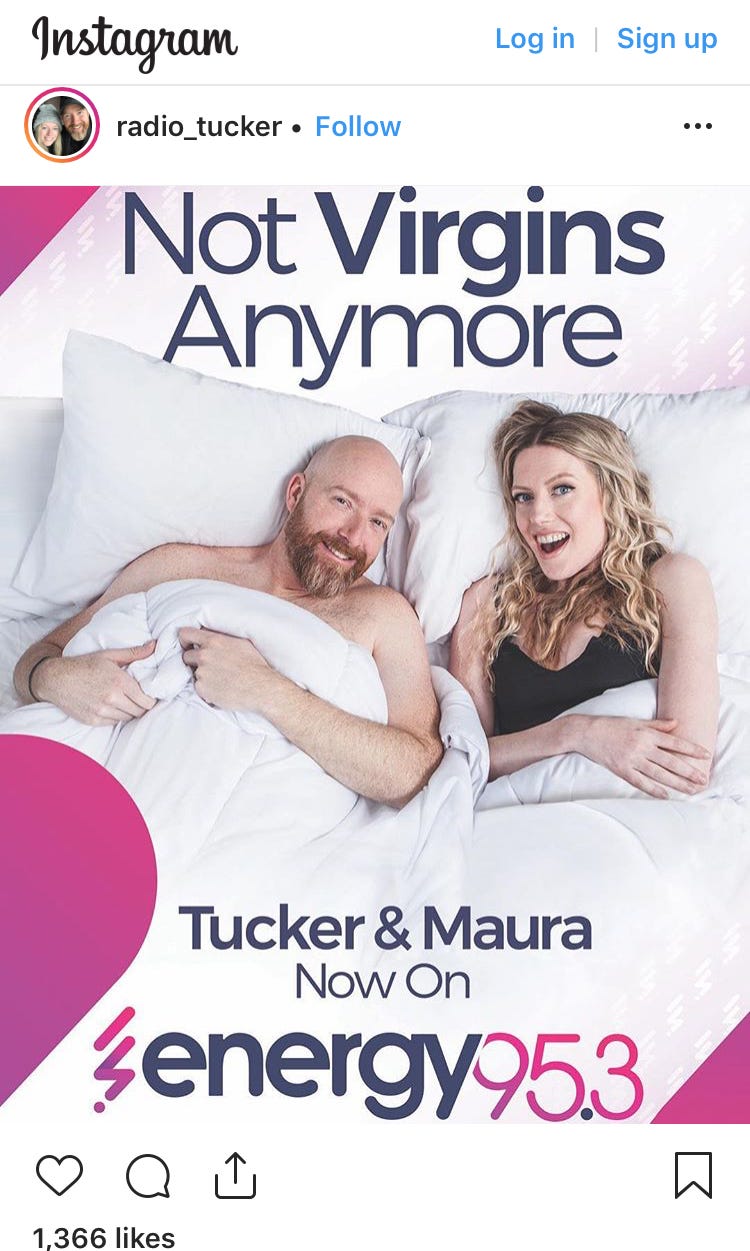 ---
Apple News+ is making Torstar touchier than ever before. The integration of the Texture magazine app with a Cupertino-based operating system will add articles from the Wall Street Journal, Los Angeles Times, and Toronto Star. With that comes each newspaper attempting to explain how its own digital subscription strategies are different from the package that Apple is peddling to Canadians for $12.99 a month.
---
Finally, drama queen derailed by hurt
DAZN securing the Women's Tennis Association rights for Canada has helped redeem the digital video platform that got off to a shaky start—even if it confuses people expecting to see Bianca Andreescu on traditional television. Her winning streak has ended for now due to injury, but DAZN is standing by for more moments like this: