Discover more from Twelve Thirty Six
Canada's News Burrito 🌯 media, culture, politics (via Toronto)
Doug Ford's safest media space is @6ixbuzztv
A new state of shitposting in Ontario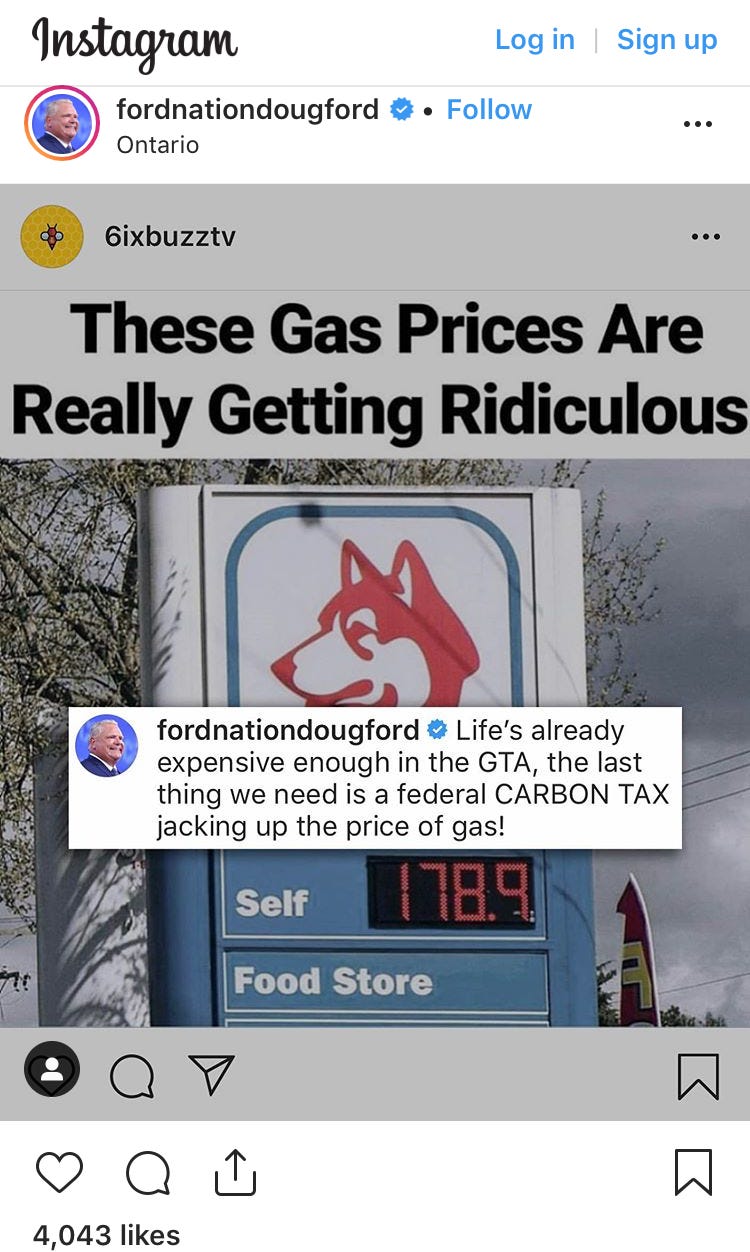 6ixBuzzTV, an Instagram account with over a million followers, is where the premier's office appears happiest to interact. It's cheaper than buying commercial time as part of a pricey effort to fight carbon pricing. And another new media outlet is approved by DoFo: wife Karla is in NL Women's Magazine, which also did a photo session with all four Ford daughters.
---
Kinga's slant on the proceedings
Continuing her habit of making youthful memes is MPP Kinga Surma, evidently referring to budget-cut criticism from the likes of the Toronto Board of Health.
---
John Tory enjoyed a drag show. The mayor tweeted about Mother's Day brunch at Glad Day Bookshop. A video from the event prompted some Post Millennial clickbait about how Tory stuffed a $5 bill into a thong.
---
Putting a price on hate speech
Paramount Fine Foods owner Mohamad Fakih was awarded $2.5 million by an Ontario judge, who ruled that he and the restaurant chain were clearly targeted in a series of videos.
---
"My inner self has never felt so colourful and vast." Meng Wanzhou, the Huawei CFO fighting extradition to the U.S., wrote a letter to employees from Vancouver. Huawei has also hired a team of lobbyists and publicists to try and keep itself in Canada's telecom game.
---
What was Alex Trebek doing in Ottawa?
The host of Jeopardy says he hopes that he's finished with chemotherapy treatment for Stage 4 pancreatic cancer. Meanwhile, he returned to his university town to join Justin Trudeau in opening this new HQ:
---
The Unknown Comic is unmasking himself. Murray Langston, a fixture of Canadian-made variety TV before he put a paper bag on his head in 1976—and became a famed regular on The Gong Show—is telling his life story on comedy producer Barry Katz's podcast, Industry Standard. (Unknown also sells bagged video selfies for $40 on Cameo.)
---
Finally, whatever will be, will be
Doris Day died at 97, and the tributes flowed for the singer of "Que Será, Será." While she kept a low profile in retirement, Day's name made for huge Canadian news in 2000, when Rick Mercer coaxed over 370,000 people to sign this particularly peculiar petition: