Discover more from Twelve Thirty Six
Canada's News Burrito 🌯 media, culture, politics (via Toronto)
Countdown to immunity from the lockdown
"It's not time to start hugging"
Quebec premier François Legault outlined the rationale for the tentative plan to reopen elementary schools and daycares during May: "Life goes on." Meanwhile, one of the province's long-term care facilities has a recent Super Bowl champion on the front lines: Laurent Duvernay-Tardif explained his involvement in a piece for Sports Illustrated.
---
It's going slower in Ontario
Lamentations for losing the summer of 2020 flowed after Doug Ford laid out a reopening framework, without any specific dates attached. Ontario's easing of social restrictions leans on more testing and contact tracing. And as Toronto gets its own recovery office, John Tory likened this stage to the second period of a hockey game.
---
"I didn't know that standing outside was a crime." Vice tells the story of an Aurora, Ontario, woman who claims to have gotten an $880 ticket for walking in a park with her baby and her dog. A similar fine was slapped upon a London, Ontario, doctor who says he was only throwing a ball around with his kids.
---
Enter the Zoom of Commons
An all-party special committee on COVID-19 will meet virtually in what's being seen as a test of the viability of a screen-based parliament, which might revive concerns about relying on Zoom to facilitate it. But the first public glimpses at the process revealed a truth: it's harder for rival MPs to act angry:
---
Foodora leaving Canada shocks the union that was ready to represent its workers. The German company gave its two weeks' notice, but placed blame upon its inability to make market gains, rather than looming labour organization. There's also a new Uber Eats backlash after a weekend outage.
---
The ultimate hat trick of typos
With its claim of reaching 11.5 million Canadians, the Stronger Together, Tous Ensemble video special has raised more than $6 million to date for food banks. Credits for the cover of "Lean on Me" also managed to botch all three most commonly misspelled Canadian names: Sarah McLachlan, Jason Priestley and George Stroumboulopoulos: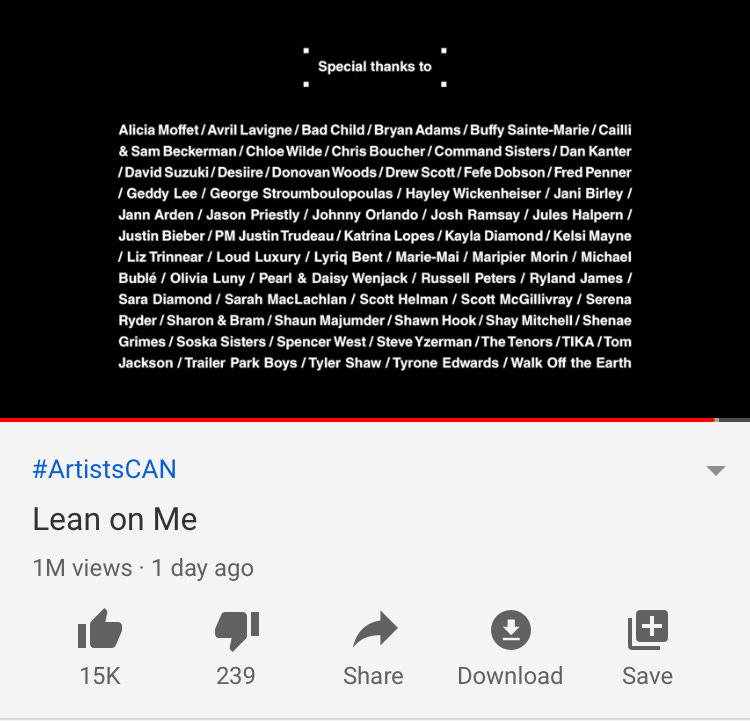 ---
The Stratford Festival won't risk a contagion. Shakespeare and company will be taking summer 2020 off in southwestern Ontario, which will instead stick to streaming past productions. Among the postponed premieres is Here's What It Takes, a rock musical with songs by Steven Page, who's also pivoted to doing concerts from home.
---
Finally, a binged star is born
Maitreyi Ramakrishnan of Mississauga was anointed as Netflix's next teen star upon the debut of her role in Never Have I Ever. Mindy Kaling, who co-created the series based on her own adolescence, drew 15,000 auditions from an online casting call. Ramakrishnan, who'd never acted professionally before, had a friend shoot hers at a local public library: