Discover more from Twelve Thirty Six
Canada's News Burrito 🌯 media, culture, politics (via Toronto)
Chef Grant Soto sliced and diced Toronto society
R.I.P. Taylor Clarke, social media genius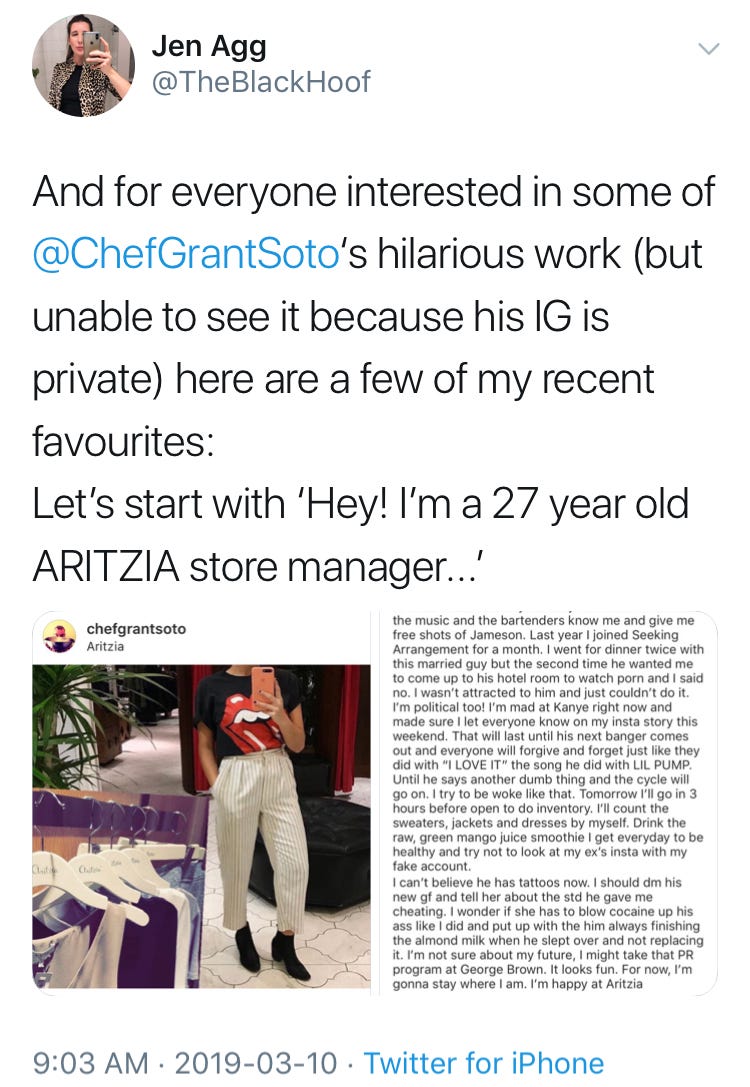 What began as a satirical Twitter account skewering Toronto's resto pretensions gave forest firefighter turned waiter Taylor Clarke attention for his screenwriting ambitions, and led to gigs like an HBO Reelside episode with Evan Goldberg. @ChefGrantSoto then became a master of Instagram, where he satirized archetypes, but also called out bad restaurateur behaviour. Clarke died of an apparent accidental overdose at age 38.
---
Women debate Justin Trudeau's feminism
Nearly identical postings from Liberal MPs Linda Lapointe and Anita Vandenbeld led the latter to insist that her support for the PM was genuine. The posts were in response to MP Celina Caesar-Chavannes claiming that her decision not to run again led Trudeau to start yelling, which he denies. Touchy Trudeau remains revered by MP Iqra Khalid. 
---
"Pizzagate" finally enters the Canadian political arena. Justin Trudeau condemned Conservative leader Andrew Scheer for responding to a rambling question about the Clinton Foundation that cited the debunked conspiracy theory. (Scheer says he simply didn't hear the "Pizzagate" part of it.) Meanwhile, likely new grist for Trudeau opponents was unearthed by The Rebel: Omar Khadr bought an Edmonton strip mall. 
---
Rob Ford flick acquitted in Texas
While the SXSW fest featured John Tory talking about how Toronto is "Not Just Bros and IPOs," more noteworthy back home was the Austin premiere screening of Run This Town, a movie based partly on the story of Rob Ford's mayoralty. The film scored decent reviews for its fictionalized commentary on the media:
---
Thomas Carrique is the new OPP commissioner. The appointment of the deputy chief from York Region follows Ron Taverner removing himself from contention, amidst controversy that included an attempt to spend $50,000 out of the OPP budget to modify a camper van for Doug Ford.
---
Contrite for insulting our Cronkite
Jeopardy champ Ken Jennings penned a tribute to the show's host for the New York Times after Alex Trebek—whom Jennings likens to Walter Cronkite—announced that he has stage-four pancreatic cancer. Trebek also got an apology over this glib headline:
---
"Just a reminder: there isn't a single ARBY'S restaurant in Toronto, one of the largest cities in North America." This Reddit remark garnered over 500 comments for what has been a recurring curiosity. Arby's roast beef nihilism recently returned to Vancouver.
---
Finally, a death in Rough Trade
Jo-Ann Brooks performed as a child R&B singer in the 1960s at Toronto's Club Bluenote, alongside her mother, Dianne Brooks. "Little Joanne" grew up to perform in musical theatre, and with Anne Murray, then joined the original incarnation of the band Rough Trade—which involved duetting with Carole Pope: