Discover more from Twelve Thirty Six
Canada's News Burrito 🌯 media, culture, politics (via Toronto)
Buffalo Buffalo Buffalo Buffalo Buffalo Buffalo Buffalo Buffalo
It's a different deal from #Wexit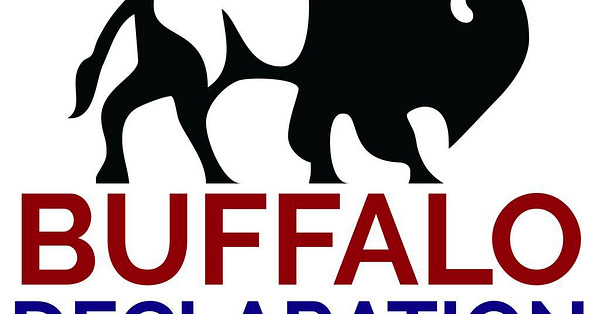 westernstandardonline.com
4 Conservative MPs: The Buffalo Declaration
Four Alberta MPs issue the Buffalo Declaration.
The spectre of an Alberta separatist movement spurred a 13-page notice from four Alberta MPs—fronted with a video message from Michelle Rempel—about drawing "a line in the sand" in regards to how Ottawa treats the province. The project name was inspired by the early idea of calling what was divided into Alberta and Saskatchewan the Province of Buffalo.
---
Take two of trying a takeover
Deleting a tweet perceived as promoting vigilantism earned enough attention for Conservative leadership candidate Peter MacKay that he sent a fundraising letter framing it as frustration. An end to the Wet'suwet'en rail blockades could come after the Friday meeting of B.C. hereditary chiefs with Mohawk supporters in Ontario.
---
"Did Huawei bring down Nortel?" Tom Blackwell of the National Post dives into theories that Chinese hacker spies sabotaged Canada's once-mighty telecom company, something Huawei denies. Meanwhile, the telecom giants spent the week arguing against CRTC consideration of virtual wireless network operators.
---
#SaveTanner from self-owning
When a story focused on his dismissal from Cineplex appeared in the Toronto Star, former pre-show host Tanner Zipchen expressed disappointment with its portrayal of his plight. Five days later, he claimed the piece wasn't "published as promised," a premise which may pertain to Hollywood movie junkets—but less likely at the Star:
---
Toronto's vacancy rate awaits a crackdown on Airbnb. The group Fairbnb claims that more than 9,700 listings from January appeared to be in contravention of city bylaws that have yet to be enforced, but the company disputes the data-scraping data.
---
Corus Radio's next last hope
After sacking its sibling breakfast show, Toronto station 102.1 the Edge started playing up the curse of a shift with nearly annual turnover ever since cancelling Dean Blundell. The latest replacement comes from another Corus outlet nearby: a trio known as The Morning Grind on Hamilton's Y108 will become the Edge's new sacrificial voices:
---
Sportsnet let go of its female morning radio host. Ashley Docking was hired last year by Toronto's Fan 590, first billed alongside two guys, who were later replaced by two other guys. But as the Rogers station faces increased competition from TSN 1050, it may not be finished tweaking with talent.
---
Finally, a meta-critical pop star
Grimes officially released her fifth album, Miss Anthropocene, in the midst of attention for having a child, presumably with Elon Musk—a pregnancy made for Instagram. She claims the baby is being played techno music in the womb, while decrying her treatment on social media. But anyone who writes about Grimes can anticipate a reply: