Discover more from Twelve Thirty Six
Canada's News Burrito 🌯 media, culture, politics (via Toronto)
April Fools don't need to read any Fake News
These real stories seem surreal enough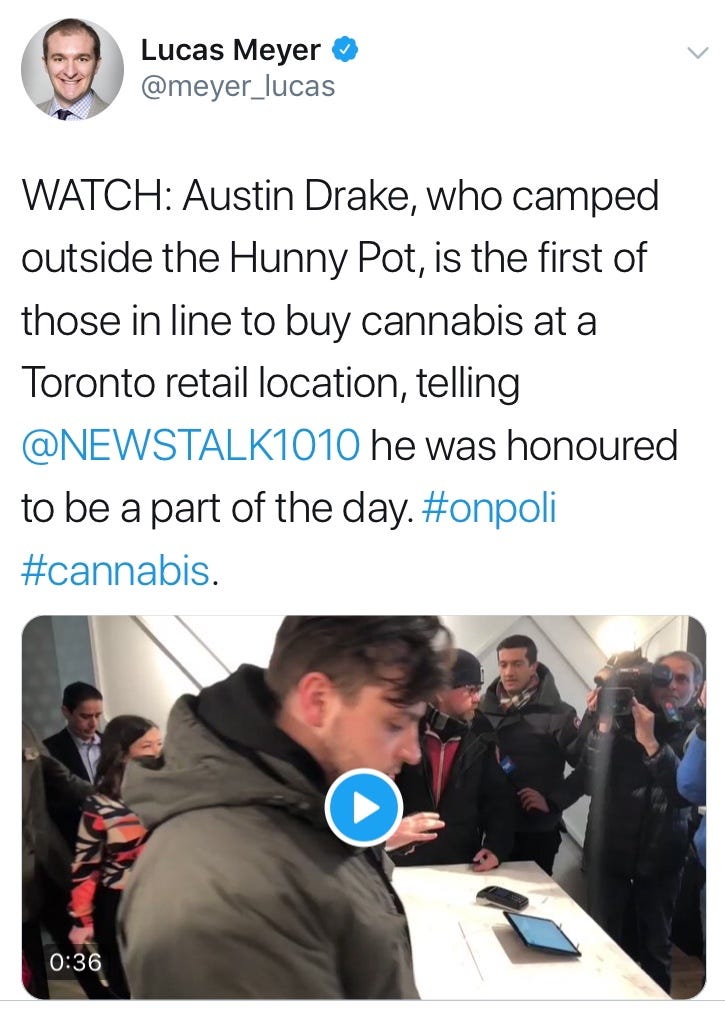 Waiting outside all night for Toronto's first legal cannabis shop wasn't enough work to deserve its initial transaction: its PR person was the first to score. The Hunny Pot won the most media glare for its location at Queen and University.
---
They all just want to pump you up
Conservative politicians filling up their tanks followed a mass text from Andrew Scheer urging a run on gas stations. Federal environment minister Catherine McKenna's retaliation? A word from Schwarzenegger. 
---
The day before everyone went on holidays. The lawyer of privy council clerk Michael Wernick explained that Justin Trudeau wasn't briefed on a secretly recorded conversation because it fell on December 19, when the PM was about to punch out for the season. Gerald Butts handed over texts and notes in response.
---
When the hunter becomes the hunted
Kyle Ashley, the formerly Twitter-famous parking enforcement officer, was nabbed by a cop whose Twitter history raised his suspicion:
---
Bunz wants to be the thing that comes after late capitalism. The bartering platform's quest for cash led it to launch its own digital currency. Now the strategy has shifted to accepting ads, with the promise of returning 60% of those revenues to Bunz app users.
---
Jim Carrey's resistance cartooning baits a fighter. "If you're wondering what fascism leads to," read the caption on Carrey's illustrated tweet, "just ask Benito Mussolini and his mistress Claretta." For this, granddaughter Alessandra Mussolini reacted: "You are a bastard." (The actress turned politician then gave the funnyman some different ideas.) 
---
Finally, because jokes ended by noon
Mark Towhey is the new editor-in-chief of Sun News, which makes Rob Ford's former chief of staff the replacement of James Wallace, who left Postmedia to work for Doug Ford. As a result, Towhey is once again the boss of a fellow ex-Ford staffer, Adrienne Batra, who remains editor-in-chief of the Toronto Sun.